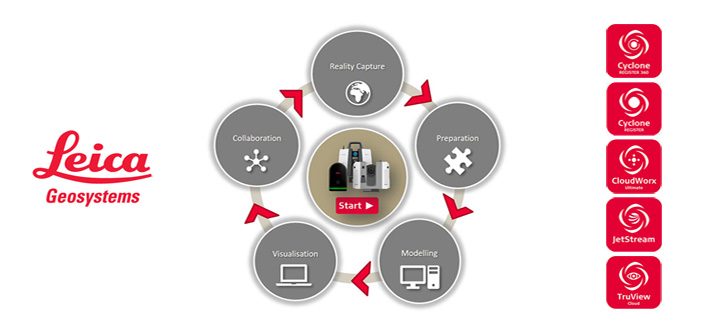 Leica Geosystems is the market-leader in point cloud delivery solutions. We offer a family of hardware and software that provides the widest set of work process options for 3D laser scanning projects in engineering, surveying, construction and related applications.
Model and share your point cloud data with end-to-end Leica HDS solutions. From data collection to data delivery, we have a suite of software that simplifies your point cloud workflow. Our extensive suite of solutions allows you to customise your point cloud workflows to simplify and enhance your deliverables.
---

Reality Capture
Leica Geosystems offers a complete range of terrestrial laser scanners to the consumer market. The revolutionary Leica BLK360 opens up the realm of scanning to a much wider audience. With its easy workflows and simple operation, the BLK360 personifies the democratisation of precise measurement equipment.
The Leica RTC360 is fast agile and precise, taking the simplicity of the BLK360 workflow and supercharging it, making it the fastest point cloud capture and delivery solution on the market.
The Leica P-Series scanners represent the gold standard in terms of point cloud data quality and reliability in the market. Boasting in-built survey workflows and ranges up to 1000m, the P-Series is a complete scanning solution.
Take a look at our handy Leica ScanStation Comparison Chart to compare specs.
---

Preparation
The first stage in point cloud preparation is to bring all the individual scans together into a single registered point cloud. To carry out this process there are two software options, Leica Cyclone Register 360, which is recommended for predominantly cloud-to-cloud workflows.
This works particularly well with data from the RTC360 and the BLK360, as it's visual interface and staged workflows allow you to manage your point cloud registration with speed, scale and simplicity.
The second option is to use Leica Cyclone Register as part of the modular platform that makes up Cyclone Core. Cyclone Register is our flagship target registration package and is ideally suited to the survey workflows of the P-Series scanners.
---

Modelling
As part of a complete offering Leica Geosystem provides both native modelling functionality and assisted modelling functionality through Leica CloudWorx plugins for popular design packages.
CloudWorx is available for the following packages, greatly improving the capability of their point cloud handling and extraction of features:
AutoCad
MicroStation
Revit
Navisworks
PDMS
BricsCAD
3DReshaper
SmartPlant Review
Smart 3D
PDS
Soldiworks
For more complex or survey based modelling and data extraction, the plethora of tools available through Cyclone Survey or Cyclone Model provide the ideal platform. 3DReshaper can also be leveraged as part of your point cloud workflow for complex meshing tasks, inspections or combining drone and terrestrial laser scan data (among other tasks).
---

Visualisation
Allowing your clients to visualise the point cloud data can often be one of the most valuable deliverables you can offer. By delivering a TruView Local file (*.tvg), your clients can open the panoramic images and take measurements through a free plugin for Internet Explorer. For a more robust deliverable, you can provide an *.lgs file with a free, no install JetStream Viewer. Using this program, your clients can open and interact with a complete point cloud without the barrier of installs or purchases.
The JetStream Viewer offers the ability to view the panoramic images, fly through the point cloud, make mark ups and measurements, take snapshots or record videos (among other features). Using this platform, they can have the benefit of the complete data set without any of the downsides or restrictions that can be associated with 3rd party viewing software.
---

Collaboration
Leica HDS solutions also provides a number of collaborative platforms for sharing data between different stakeholders. JetStream Enterprise is a self-hosted server where all of you point cloud information can be stored and accessed by members of your team for downstream modelling purposes.
The benefit of having your data stored on a JetStream Enterprise server is that you can access it remotely with very good performance, reducing the burden of moving large point clouds file around. Truview Enterprise is another self-hosted solution which stakeholders can access through a URL. Clicking through these links lets project participants view the sitemaps and panoramic images of a project to take measurements and make markups etc. in a collaborative environment.
TruView Cloud offers the exact same functionality, but instead of a self-hosted solution, it is hosted on Leica servers. A VR solution is also available, Cyclone Model VR allows the user to view and interact with modelled data produced from Cyclone Model, using a HTC Vive headset.
The Leica HDS portfolio offers complete end-to-end solutions for data capture through to deliverables. Leica's commitment to sustained research and development in this area ensures that these solutions are leading the reality capture industry whilst also continuously evolving and improving. This is evident throughout the entire HDS suite of solutions.
---
For more information on Leica HDS solutions talk to our Reality Capture team:
---
SHARE THIS ARTICLE