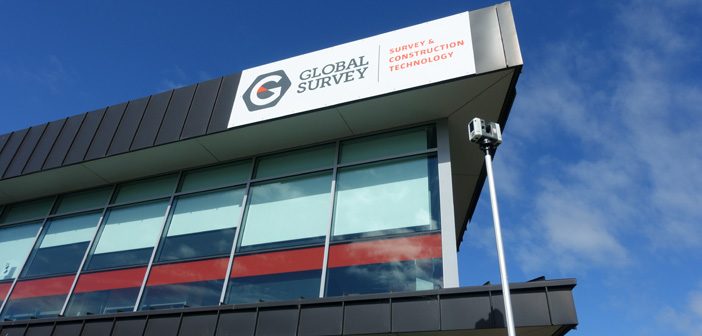 We've expanded our Laser Scanning Hire Fleet with the addition of the Nedo Industrial Shaft Tripod. The Nedo Tripod is designed for raising or lowering a laser scanner to otherwise inaccessible locations and is compatible with the Leica RTC360, Leica BLK360 and Leica P Series scanners.
The Nedo Tripod enables the scanning of confined spaces such as ceilings, inspection chambers and tanks without having to deploy personnel into potentially dangerous environments. Using the  Nedo Tripod the scanner can be positioned high up to capture data on surfaces that would otherwise be shadowed by obstructions such as balconies, awnings, windowsills or other architectural details.
Christchurch City Council have recently used the Nedo Tripod in conjunction with a Leica RTC360 to scans manholes in the city. The RTC360 was inverted and lowered down into the manhole to capture 3 scan per manhole including HDR imagery for inspection purposes.
This methodology removed the need for any personnel to enter the manhole cavity and risk harm or injury to capture manual measurements or photographs in a speedy manner, cutting labour and traffic management costs.
Leica RTC360 inverted and ready to be lowered into the manhole: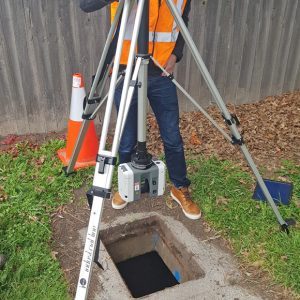 The captured data was registered and pointclouds QA'd using Leica Register360 and then accurate 3D mesh models were produced in Leica Cyclone 3DR.
Image from RTC360 laser scanner:
The resulting models, which were being used to design stainless-steel weir installations, providing designers with accurate and detailed digital twins of the manholes that allowed them to design and construct the inserts with a new level of confidence. This avoids potentially costly rework at the time of installation.
Each chamber, plus the surrounding area is scanned in full-HDR in approx 5 minutes. Targets incorporated into the above-ground scans enable geo-referencing of the data.
Interactive 3D Mesh published from Leica Cyclone 3DR:
Nedo Industrial Shaft Tripod can be used to elevate a laser scanner up to 5m high or invert down a shaft up to 4m in depth. It is rated for heavy loads and has an indirect gear unit, allowing even heavy 3D laser scanners to be secured. Deployment is enhanced by use of a cordless driver for rapid elevation of the scanner.
The laser scanner can be positioned to the required working height or depth at the push of a button.
Nedo Tripod Key Features:
Very sturdy design with aluminium elevating head
Strong, twist proof aluminium elevating column
Additional leg struts for extra stability
Large-sized cap nut for centered clamping of the elevating column
Reinforced elevating gear with indirect drive
Combination tripod shoes for secure footing on different ground surfaces
---
Talk to our team about hiring a Laser Scanner and/or the Nedo Tripod for your next project.
---
SHARE THIS ARTICLE