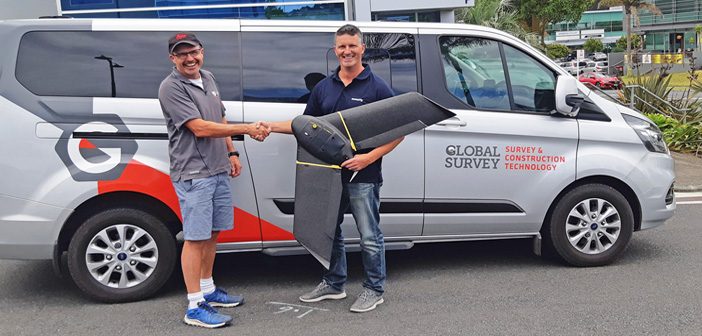 We're pleased to announce that Global Survey has officially become the New Zealand distributor for senseFly eBee drones.
"We are excited to partner with senseFly, a well-established and proven Swiss drone manufacturer, to offer the eBee fixed wing drones to New Zealand customers. The eBee survey-grade drones are an easy-to-use fixed wing drone that delivers an outstanding solution as a stand-alone product or as a complement to existing rotary drone users. We understand that not only is the capture process important, but the entire workflow needs be a seamless operation, and we have the tools and expertise to fully support the entire process." Bruce Robinson – Director, Global Survey Ltd
"Survey drones are an exciting growth area in the industry and the addition of the eBee drones further strengthens our ability to provide customers with the best solutions on the market." Bruce Robinson – Director, Global Survey Ltd
The eBee drones from senseFly are some of the world's most widely used aerial mapping tools. The eBee X fixed wing drone is used by thousands of geospatial professionals across the globe. These safe, lightweight systems offer automatic operation, professional-grade software and application-specific camera options.
"I am very pleased to be partnering with Global Survey as our distributor for New Zealand. They are an established and respected provider to the survey, engineering and construction markets and I am sure that senseFly's commercial drones will make an excellent addition to their portfolio. I look forward to continuing to work with Global Survey as they expand and support the senseFly brand in New Zealand." Simon Morris – senseFly Regional Manager, Asia Pacific
With over 35 years history in supplying quality technology solutions to the surveying and construction industries, our expert team are confident in delivering advice on data capture and workflows and are able to offer technical support to NZ customers locally.
---
To discuss if an eBee fixed wing drone could be the right solution for your project contact us:
---
SHARE THIS ARTICLE