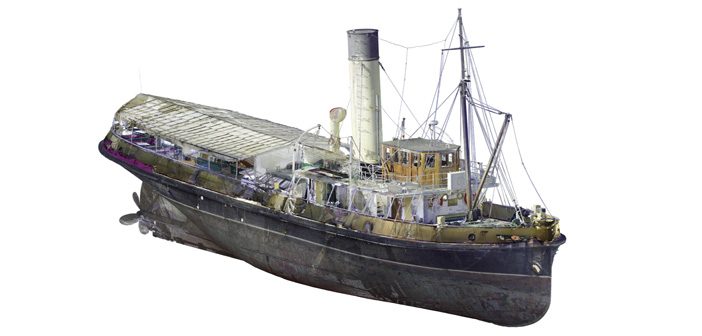 When you are involved in laser scanning you see the world differently. We get excited about unusual and interesting structures and often think "That would be amazing to scan!".
Few structures are more complex or intricate than maritime vessels, so when Lennon Bedford & Richard Harrison from our Christchurch team saw the historic Tug Lyttelton, they knew it was the perfect worthwhile community project to get involved in.
---

"We were looking for a structure that would be a good proving ground for the Leica RTC360 / Cyclone 3DR solution and Tug Lyttelton fitted the bill with tight spaces and complex internal and external surfaces that would make it a real challenge."

Lennon Bedford – Technical Specialist / South Island Branch Manager, Global Survey

---
This historic steam tug is maintained and operated by the Tug Lyttelton Preservation Society, a non-profit organisation who run popular scenic cruises across Lyttelton harbour. Tug Lyttelton was built in Glasgow, operated in Lyttelton between 1907 and 1973 and holds a special place in the hearts of maritime enthusiasts across New Zealand. The Society attracts support from an active hands-on group of enthusiasts, many of whom have served on the vessel, plus some experienced volunteers who help operate her on sailing days.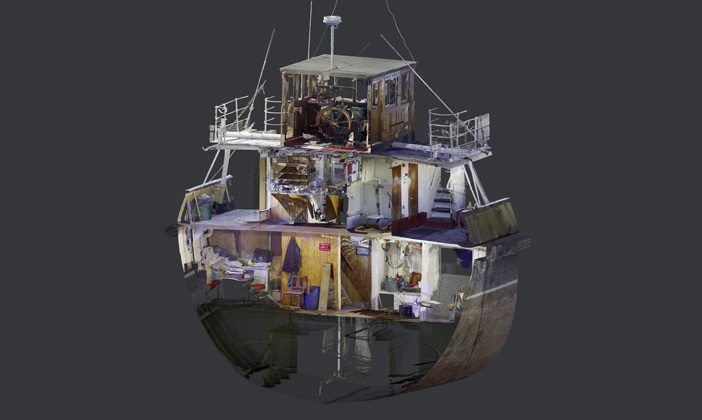 The vessel is berthed at Lyttelton Port of Christchurch and surveyed and maintained at Stark Bros dry dock. It was while she was in dry dock that our team had the ideal opportunity to laser scan the whole vessel, inside and out.
---
Scanning Historic Tug Lyttelton
This historic steam tug has a very complex structure, particularly below deck, with a labyrinth of narrow passageways and bulkheads connecting many complicated confined spaces. It presented a good challenge for acquisition of quality scan data and spherical imagery.
---

"The speed of the RTC360 scanner gave us the luxury to capture more than enough overlapping data to create a comprehensive and robust registered point cloud. In this case we captured almost 1 billion points over 120 scans"

Richard Harrison – Survey Specialist, Global Survey

---
Small and lightweight, the Leica RTC360 scanner's portable design and collapsible tripod allowed us to scan in the deepest and darkest nooks and crannies of the tug, which were only accessible by passing the scanner through small hatches.
Click and hold to navigate around the interactive 3D model:
Laser scanning creates a mm-accurate, photo-realistic digital replica of the subject through the capture of millions of 3-dimensional coordinated points on every visible surface of the structure.
The low-noise scan data and high-resolution HDR imagery captured by the Leica RTC360 delivered crisp, high-quality point clouds that are rich in detail and can be used for a range of additional deliverables to support engineering and design.
---
Laser Scanning Workflow & Deliverables
The Leica Cyclone FIELD 360 app was used to automatically pre-register and align scans directly in the field. This allowed the team to leave the tug confident in the knowledge they had all the data needed to create a complete 3D dataset.
The registration was finalised and verified in Leica Register 360 software, the powerful visual QA tools and reporting took the guesswork out of determining the quality of the registration.
Click and drag to navigate around the interactive 3D panoramic:
The point cloud was then brought into Leica Cyclone 3DR for the creation of final deliverables including:
– A cleaned, coloured point cloud
– Orthoimages of the point cloud
– A lightweight complex mesh of the outer hull
– A reverse engineered CAD-model of the outer hull
The results are not only visually engaging, but also an invaluable accurate 3D digital record of an important part of New Zealand's heritage.
---
Digitally Preserving NZ's Maritime History
Digital preservation is a field of heritage conservation that has very much come of age with the maturing of laser scanning technology. Laser scanning plays a vital role in heritage conservation and around the world, laser scanning advancements are enabling the digitisation and preservation of important historical buildings and creating unique experiences that previously would have been unimaginable.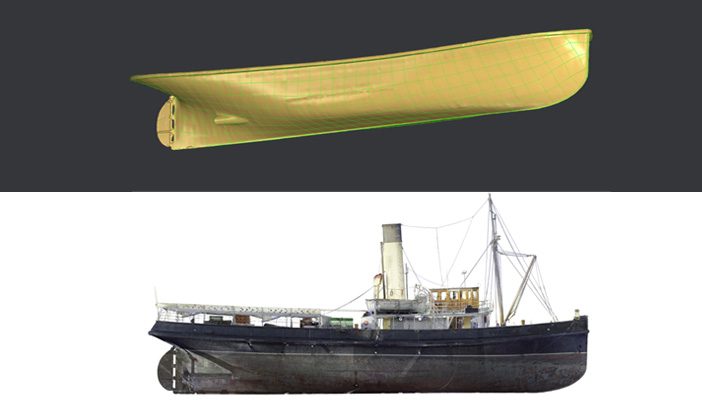 Digitally preserving historical assets typically involves creating a digital copy of the subject through a combination of technologies which could include laser scanning, high resolution terrestrial photography, overhead aerial photography using drones and even ground penetrating radar (GPR). These techniques are all non-invasive and suitable for precise data capture without having any impact on the structure.
The result of this project is a survey-accurate 3D digital copy of the Tug Lyttelton historic vessel that was presented to Society President, Roger Ellery at the Tug Lyttelton Preservation Society's AGM in September 2020.
---
---
For more interesting scanning content follow Lennon Bedford and Richard Harrison on LinkedIn
---
SHARE THIS ARTICLE