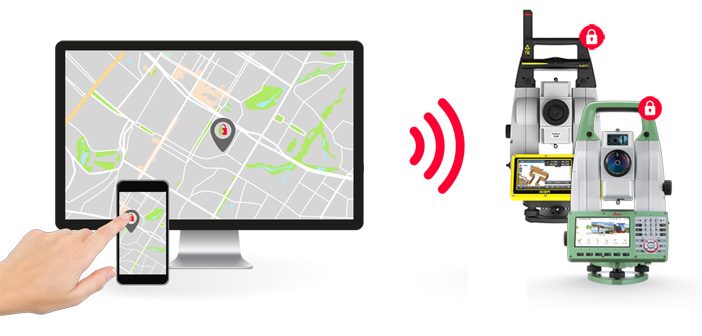 Introducing the new Leica LOC8 essential security feature for Leica Total Stations.
Leica LOC8 is a positioning, tracking and locking solution for Leica total stations that enables the user to remotely track and lock instruments on demand.
With this feature users can remotely lock and unlock their total stations, receive notifications of the total station whereabouts, and set up geo-fencing to ensure that instruments are not removed from specified areas. These features help to minimize the risk of theft and the costs involved with replacing equipment.
---
Leica LOC8 Features:
Precise Positioning
View accurate locations of total stations on demand and in real-time regardless of whether the instrument is indoors or outdoors. Leica LOC8 can identify the position of your total station with accuracy of 50m with AGPs, 15M with WLNA and down to <5M with GPS. Users can locate their total stations anytime and anywhere thanks to the mobile app which sends location updates as often as every minute.
Geo-Fencing
Leica LOC8 also acts as a fleet management tool to help users make sure their instruments are where they're supposed to be. Users can set up multiple geo-fences around the office and job site where the total stations will be, anytime an instrument is moved from the predefined geo-fenced area, Leica LOC8 will send an alert through the app or email.
Remote Locking
Protect your equipment from theft with LOC8's remote locking feature. With the simple click of a button on the app or computer, users can lock or unlock instruments from anywhere without having to go through a service centre. Once a total station is locked, it cannot be used. Leica LOC8 will also immediately detect when the instrument is powered on and make it unusable. Users can also lock their total stations when they are powered off, as it only needs to have an established connection to the LOC8 to be locked remotely.
Peace of Mind
Being able to track, locate and remotely lock your total stations not only provides peace of mind, but also allows you to gain access to insurance coverage at possibly lower premiums. Leica LOC8 helps to save costs due to its theft deterring features and insurance benefits, making it an essential tool to confidently and efficiently continue your field work without having to worry about the safety, security or locations of your total stations.
---
Which Total Stations are Leica LOC8 compatible?:
Leica LOC8 is compatible with a wide range of survey and construction total stations. It can be installed at the time of purchase or it can be retrofitted by a Leica accredited Technician at one of our Service Centres.
Leica Construction Total Stations: iCON iCB50 / iCON iCB70 / iCON iCR70/ iCON iCR80 & iCR80S
Leica Survey Total Stations: TS13 / Viva TS16 / FlexLine TS03 / FlexLine TS07 / FlexLine TS10
---
Talk to our team to find out more about Leica LOC8:
---
SHARE THIS ARTICLE