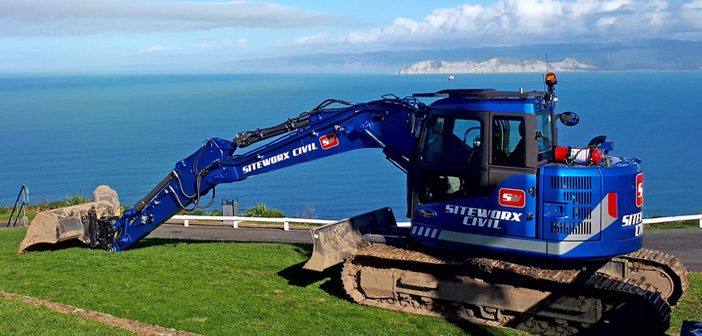 With a rich 50 year history, family owned and operated Siteworx Civil have a stand out reputation as one of the leading civil construction companies in the East Cape. If you've spent any time in the Gisborne area you've probably already seen Siteworx Civil in action, their distinctive blue Volvo excavators are hard to miss!
Siteworx Civil recently made the decisions to invest in a Leica iCON 3D excavator system. The company already had a SharpGrade skidsteer fitted with a 2D Leica systems for final trim work so had confidence that the Leica systems was the right choice.
"The system has really improved our efficiency onsite, we no longer use string lines or extra staff to check heights, it's quick and easy to work out cut fill volumes and do as-builts. We really enjoy the ability to design a surface in front of the client". Blair Judd, Contracts Manager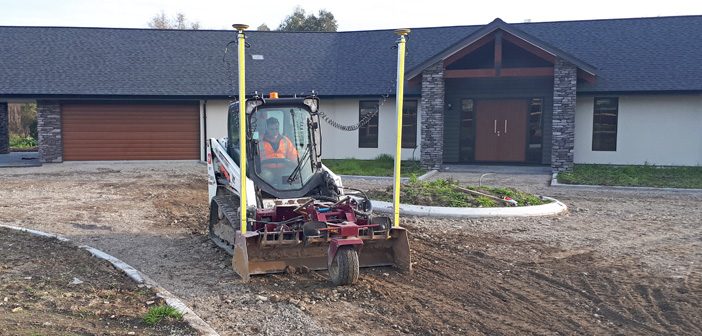 In addition to the excavator systems, Siteworx also upgraded their Skidsteer to a 3D systems and they added a Leica GPS70 T tilt rover with Leica iCON Site software for quick and easy set out and design. Both the Leica systems on the SharpGrade skidsteer and excavator access our SmartFix subscription service for RTK corrections.
The new Leica technology will be put to good use across multiple Siteworx Civil projects including earthworks for the new Mitre 10 in Gisborne and the Titirangi Hill redevelopment project.
---
Why Choose Global Survey?
Getting real tangible benefits from your choice of machine control system is key. Leica technology is specifically designed to speed up the construction process and deliver a good return on your investment. It's also just as important to choose a company that can be relied on for quality service and support.
"We always put our clients first so it was really important to us that we choose a supplier with the same values. As a business we need strong suppliers that support us so we can deliver on our promises to our clients. We'd heard from friends that had tried other brands that the Leica system had the best support team. The Global Survey team have been really good and responsive, they always pick up the phone or call us straight back and we know we can rely on them". Blair Judd, Contracts Manager
The Global Survey machine control team includes 9 specialists that are focused on delivering unparalleled support for our customers. Contact them on 0800 453 422 or email info@globalsurvey.co.nz.
---
Find out more about Siteworx Civil or connect with Blair Judd on LinkedIn to keep up to date with their projects.
---
SHARE THIS ARTICLE