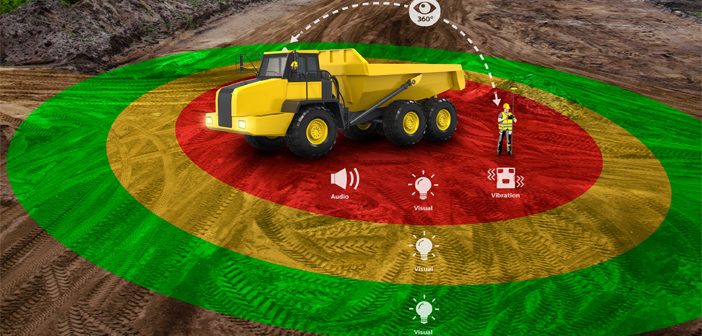 Leica PA10 Personal Alert System – Minimise Vehicle Related Incidents
Any Health & Safety Manager will tell you that the nature of work in the construction industry means it is a relatively high-risk industry. Construction sites can be dangerous – heavy traffic, large equipment, poor visibility and blind spots all create the potential for accidents onsite.
The construction industry demands ultimate productivity and the highest safety levels – success today depends on improving both. This means minimising vehicle-related incidents.
Technology from Leica Geosystems is helping to prevent incidents while improving efficiencies and increasing productivity. Minimising the likelihood of vehicle-related incidents and providing the utmost protection for staff is made easier with the Leica PA10 Personal Alert System.
---

Reducing Operational Risks
The Leica PA10 is an accident-avoidance device worn onsite for 360-degree visibility of pedestrians around heavy equipment. Better operator visibility, greater feedback to operators and personnel in the field minimises the risk of injury, a near miss and site shut down.
The integrated Collision Avoidance System (CAS) delivers additional traffic awareness to operators and pedestrians from the daily dangers found on site; blind spots, noise, heavy traffic and poor visibility can all be minimised with the Leica PA10.
It is designed to improve workplace safety by reducing the risk of a collision by detecting assets and personnel and alerting operators when people, vehicles and obstacles are nearby. With the Leica PA10 operators are aware of the position and distance of persons.
When operators and personnel can see each other, accidents are reduced.
---

How the Leica PA10 Works
Based on the movement of the personnel and the heavy machinery, Leica PA10 measures continuously the distance between machinery and pedestrians as well as machine to machine with the CAS option.
Leica PA10 indicates potential close interactions and produces audible, visual and vibratory alarms to heavy machinery operators and pedestrians to avoid possible accidents. The tags are equipped with visual, audible and haptic feedback (multi-colour LEDs, beeper and vibrator) while the on-machine solution provides visual and audible alarms.
It does this by creating multiple zones with configurable warnings around the vehicle.
---
Pave Your Way to a Safe and Productive Construction Site
Committing to technology that integrates a collision-avoidance system with a personal alert solution might be the smartest investment a company can make to improve productivity and safety.
Leica PA10 gives machine operators 360-degree proximity detection and for operators, CAS represents peace of mind. The Leica PA10 empowers operators to work more confidently and more productively, and construction sites to operate with utmost safety and profitability.
Reduction in costs and downtime associated with collisions is an added benefit to the safety improvements realised through the systems. A single accident with no injuries can limit machine availability and put a hold on construction operations with a flow-on impact on project deadlines. The resulting repair costs, equipment downtime, administrative requirements, and lost productivity all impact the bottom line.
For construction sites, safety is a sound investment, ensuring that everyone gets home safely.
---
Contact our Machine Control team to demo the Leica PA10
0800 453 422 or info@globalsurvey.co.nz
---
SHARE THIS ARTICLE