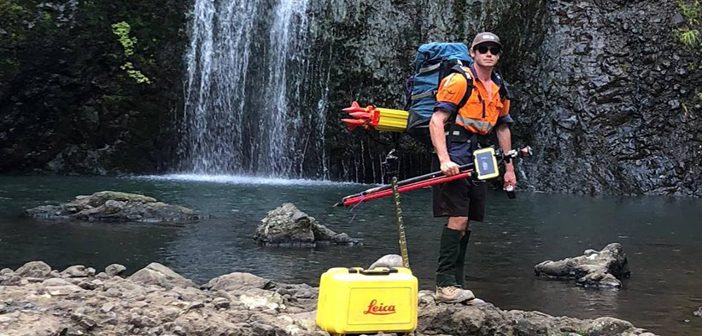 Aerialsmiths are a fast growing company based in Auckland that specialise in both land and aerial surveys for earthworks and roading projects. They have a DJI Matrice600 Pro with KLAU PPK drone for aerial surveys and a Leica iCON iCR80 Total Station, Leica GPS60 Rover and Leica DS2000 Ground Penetrating Radar for ground surveys.
They are a tight-knit team of four specialists focused on pushing the boundaries of the latest technology to deliver work more productively for their clients. In the two years since they started, Aerialsmiths have built up a solid client base including projects with Fulton Hogan, Kiwirail, Dempsey Wood, Schick Civil and Auckland Council.
"Having the right tools at our fingertips is the key to delivering fast, efficient and accurate results for our clients"– Felix Fielding, Director
---
Investing In The Right Technology
Aerialsmiths focus on combining cutting-edge UAV technology with traditional surveying methods to produce outputs with survey-grade accuracy and ultra-high-resolution faster and safer than traditional practices alone.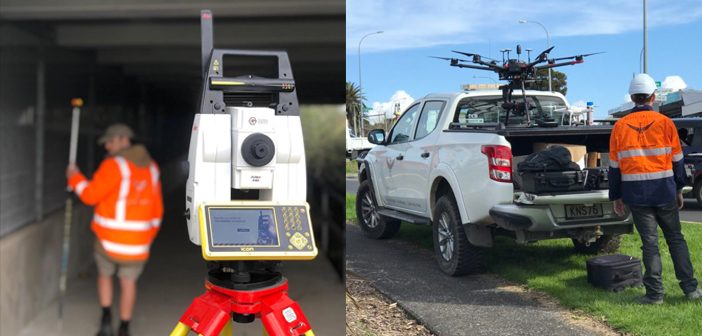 When it comes to technology brands, Leica iCON was the natural choice for Aerialsmiths. The implementation of Leica iCON technology has streamlined their work processes and enabled the team to spend more time working in the field. The Leica iCON iCR80 reflectorless total station has made it easier to complete bush topographic surveys in hard to access areas without putting Surveyors at risk.
"Leica technology has allowed us to undertake jobs in a fast and efficient manor. Most of our surveyors came from companies using Leica iCON so it made sense to continue with the brand. We find it's the best solution for the civil based work we do" – Felix Fielding, Director
One of the key benefits of the Leica iCON range is that the software is consistent across the entire suite of products no matter which iCON hardware you use. This means that construction and survey teams can operate any number of instruments from the same interface. Less time training on multiple systems, more time in the field.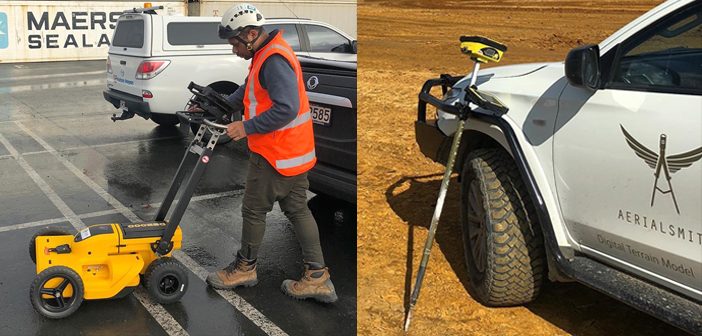 Recently Aerialsmiths have progressed into offering clients GPR services which go hand in hand with their survey work. They purchased a Leica DS2000 GPR for safer faster underground detection and utility locating. The Leica DS2000 GPR provides a full picture of what lies beneath the ground including non-metallic fibers and pipes, a necessary safety precaution before any excavation work begins.
---
The Global Survey Difference
At Global Survey, we pride ourselves on the calibre of our team and the industry-leading levels of service and support we offer our customers. We call it the Global Survey difference because it's that added extra that we offer; expert advice, technical assistance and being at the end of the phone when we're needed.
Felix Fielding had this to say about his experience as a Global Survey customer:
"We have found Global Survey to be top of their field with supply and service. Lawrence Lewis has been with us from the start of our business and has always been there to trouble shoot any issue we have whether it be in the field or in the office. Lately we have also been dealing with Campbell McNair with the GPR. Campbell has been flawless with his information sharing and customer service. We highly rate Global Survey and will continue to use them as we grow."
---
Follow Aerialsmiths on Facebook or Instagram for great photos and regular updates.
---
SHARE THIS ARTICLE