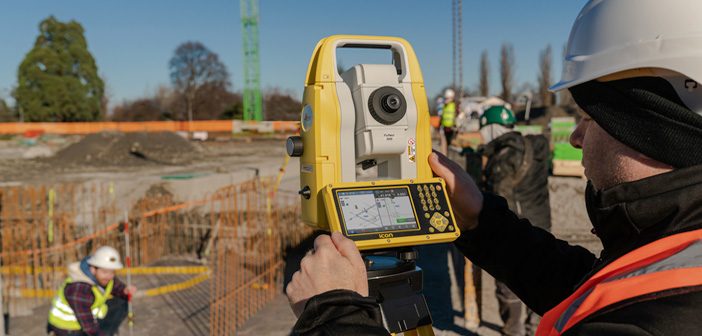 As the construction industry becomes more digital, there is a requirement to be more efficient in construction layout to complete projects on time and under budget.
The new Leica iCON iCB manual construction total stations aid this shift to digitalisation, allowing field crews to work directly with digital design data, layout complex structures with improved accuracy to minimise failures and optimise costs.
The recent release of the new Leica iCON iCB50 & iCB70 Manual Total Stations further expands the range of Leica iCON solutions designed specifically for construction.
The Leica iCON iCB50 and iCB70 are simple to use, highly reliable total stations operated manually by two persons. With minimal training, the existing workforce will be able to digitally layout complex structures with improved accuracy, while minimising delays and increasing efficiency.
One of the key benefits of the iCON range is that the software is consistent across the entire suite of products no matter which iCON hardware you use. This means that construction teams can operate any number of instruments from the same interface. Less time training on multiple systems, more time in the field.
Featuring an integrated 4G modem, the Leica iCON iCB70 lets you transfer construction data between design office and the instrument on site for even higher efficiency.
Here's a handy comparison chart to show how these two new models fit into the Leica iCON total station range.
Leica iCON total station
Leica iCON iCB50
Leica iCON iCB70
Leica iCON iCT30
Leica iCON iCR70
Leica iCON iCR80
Total station type
Manual
Manual
Robotic
Robotic
Robotic
Angular accuracy
[seconds of arc]
2/5
1/2/5
9
2/5
1/2/5
Range to prism
N/A
<3,500m
80m
<3,500m
<3,500m
Range to any surface
>500m
>500m
80m
>500m
>1000m
Range accuracy to prism
X
1mm + 1.5ppm
1mm
1mm + 1.5ppm
1mm + 1.5ppm
Range accuracy to any surface
2mm + 2ppm
2mm + 2ppm
2mm
2mm + 2ppm
2mm + 2ppm
Prism search type
X
X
AutoSearch (typically 15s)
Speed Search (typically 7s)
PowerSearch (typically 5s)
Target aiming type
X
X
ATR
ATR
ATR Plus
Field software
Leica iCON Field
Leica iCON Field
Leica iCON Field
Leica iCON Field
Leica iCON Field
Compatible with 3D IFC data
✓
✓
✓
✓
✓
Compatible with Leica machine control
X
X
X
X
✓
---
Are you ready to make the transition to no-strings and no-tapes construction layout with Leica iCON?
---
SHARE THIS ARTICLE