Intelligent Construction. Delivered.
Digitisation is changing the way we work, this has never been truer than in the civil construction industry today. We have the opportunity to work smarter, faster and be more productive than ever before.
Intelligent construction is enabling contractors around the world to make business decisions based on real-time data. Digitisation enables projects to be completed on time, on budget and to the highest specifications.
Leica Geosystem's world-class technology spans the entire construction lifecycle and includes solutions for design, set out, site positioning, laser scanning, UAV's, machine control and much more delivered in an intuitive offering tailored to all levels of users.
---
Introducing The Ultimate GNSS Rover.
The new Leica iCON GPS 70 T features full tilt compensation delivering maximum efficiency, increased accuracy and reducing critical errors. Fully calibration-free, the iCON GPS 70 T is ready when you are – anytime, anywhere.
With the latest innovation in GNSS technology you can now measure and stakeout points quicker than ever before.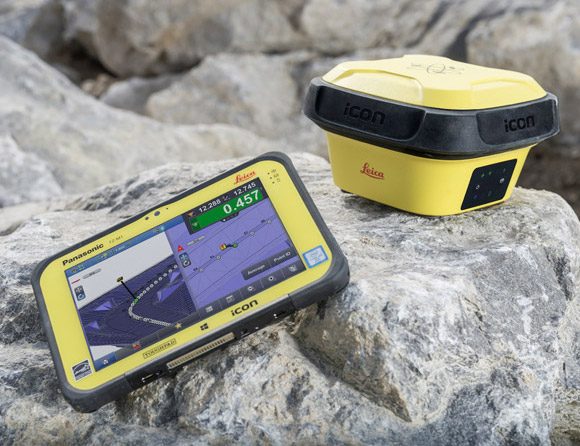 Work with confidence. Increase productivity, speed and accuracy.
Operate faster, smarter and easier with the new Leica iCON GPS 70 T fully tilt compensated GNSS solution.
Collect topographic / as-built field data and stakeout designs faster without the need to keep the pole vertical or level the bubble.
With the latest construction-orientated iCON Site software, the iCON GPS 70 T delivers maximum productivity across every onsite survey and set out task.
---
Watch the iCON GPS 70 T in action:
Measure where you could not go before.
Measure where it was not possible before with improved speed and accuracy. The integration of the latest GNSS and inertial measurement unit (IMU) technology enables the Leica iCON GPS 70 T to operate precisely when tilted without levelling the bubble.
Now you can measure anywhere regardless of the environment. Fully calibration-free, the iCON GPS 70 T enables you to operate at maximum efficiency.
Stay Connected to your work site.
With modern technology you can stay connected to your site from anywhere in the world.
Enjoy full visibility and maximum efficiency with seamless data transfer to and from site using Leica's web based ConX portal.
---
Service and support you can rely on.
The Global Survey team have been industry leaders for almost 35 years. In that time, we've introduced many new technologies to the NZ market including the first 2D & 3D machine control systems, first laser scanners and first robotic total stations.
Services like Smartfix, our leading GNSS reference station network enable our customers to get the best performance and productivity from their investment.
We understand the pressure to keep the project moving, there's no time for downtime. That's why we provide the service and support you need, when you need it.
With a full range of hardware and software designed specifically to maximise productivity onsite, we have the technical expertise and experience to deliver fast, high-quality support that minimises your downtime and keeps you moving. Contact our expert team on 0800 453 422.

Put the Leica iCON GPS 70 T to the test.