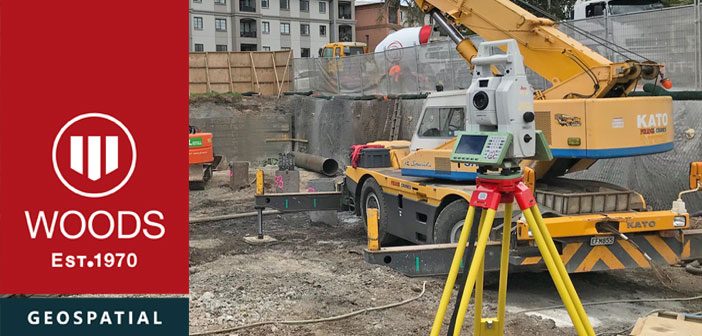 Woods have been busy flexing their construction surveying muscles on the new Quest apartments in Takapuna on Auckland's North Shore.
Bufton Construction are the main contractor tasked with building this new 5-story multi-use structure, comprised of 26 basement car parks, commercial tenancies on the ground floor, 51 hotel rooms and 6 private apartments due for completion in April 2021.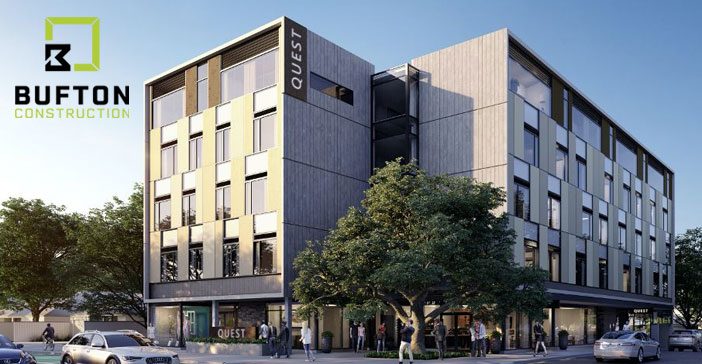 Full Steam Ahead
Once NZ was out of Covid-19 lockdown, the pressure was on to make progress on the project. The time constraints of this fast-paced job meant they needed a surveying firm that could deliver accurate and reliable results first time, without any rework.
Woods & Partners were hired by Scott Bufton at Bufton Construction for construction survey work right through from demolition to completion of the structure. The Woods team made multiple site visits at various stages of the project to perform set-out and asbuilt surveys.
---

"We needed a level of certainty around the timing of deliverables which is why we hired Woods. Their Surveyors were really easy to work with, the communication was first rate, they inherently understood the needs of the project and delivered construction surveying to a very high standard" – Scott Bufton – Director, Bufton Construction

---
Woods Survey Team – Overcoming Challenges
This particular site presented a number of challenges for the Builders and Surveyors involved. The nature of the site was very compact and had tight access issues due to the building occupying almost the entire section.
Multiple contractors onsite working in compact conditions combined with the need to adhere to strict health and safety and contact tracing procedures, meant that the work schedule needed to be planned with military precision.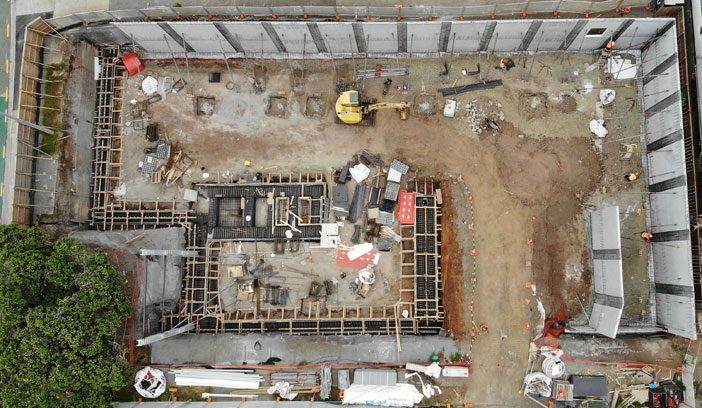 From an engineering point of view, the biggest challenge was getting out of the ground including the construction of foundations and the basement carpark, retaining the road reserve and maintaining the integrity of the associated underground services.
The Bufton Construction team successfully and accurately installed 52 foundation piles in what was reportedly some of the hardest basalt in Auckland, all completed within tight construction tolerances. Woods Surveyors assisted with progressive set-out and asbuilts to ensure the structure was accurate to the design from the ground up.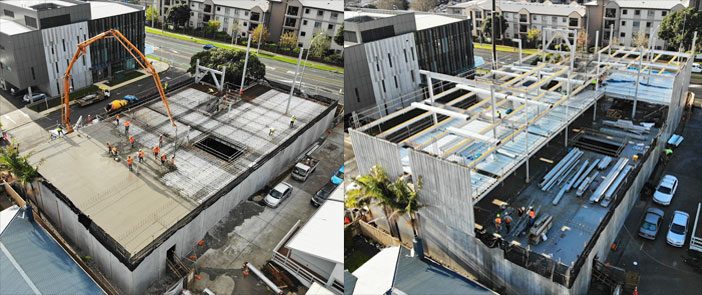 This compact site was surrounded by other buildings, so the Woods team were also tasked with construction monitoring of the neighbouring properties to regularly assess if there was any movement throughout the construction process. Construction monitoring throughout the build is an important factor in identifying any emerging issues and provides the contractor with peace of mind as the build progresses.
---

"Our team are very experienced in this type of surveying for commercial builds, from our perspective this was technically a fairly straightforward job, but the constraints of the site and schedule were a challenge. Our approach is always to be a team player, work in with the project's timings and make sure everything runs like clockwork." Lee Scorrar – Survey Construction Manager, Woods & Partners

---
The Woods Survey Team worked closely with Bufton Construction to understand the constraints of the project and complete the survey work as efficiently as possible.
The Right Technology For The Job
Wood's Surveyors predominantly used their Leica TS16 total station on this project, bringing in their Leica TS60 for high-precision set-out tasks when required and for the monitoring of neighbouring properties. This combination meant that the right tool was used for the right job, with the added benefit that the data could be shared between instruments.

Over the years, Woods have invested in a fleet of Leica total stations, GNSS and laser scanners for their highly-skilled team of specialists to use on a wide variety of projects. They specialise in everything from construction surveying and laser scanning to BIM and setting out of industry standard formats including IFC models.
The team at Woods are fully enabled with Leica survey technology and processes to support their construction clients and help deliver projects as efficiently as possible.
Celebrating Success
This year, Woods celebrate their 50 year anniversary as one of NZ's leading survey firms. Their growing multi-disciplined team of Surveyors, Planners, Engineers and BIM professionals focus on delivering comprehensive and innovative services for both straight-forward and complex projects.
We're proud to say we've been working with the Woods Survey Team for decades and have developed a strong partnership over the years. Woods know that our team are only a phone call away if they need us for technical support, problem solving or just to share knowledge.
---
To discuss your construction project with the Woods Survey Team:
---
Sign up to receive Global Survey news, updates, customer stories and new product releases!

---
SHARE THIS ARTICLE