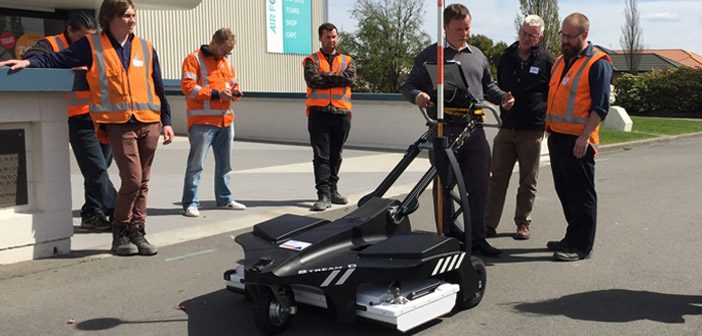 Stream C is a compact array solution for real-time 3D mapping of underground utilities and features. Thanks to increased levels of accuracy provided by a massive antenna array, Stream C Ground Penetrating Radar is able to automatically detect pipes and cables.
Stream C Ground Penetrating Radar (GPR) detects underground utilities in real time and quickly produces subsurface GIS-based digital maps. Due to the system's flexibility and size, Stream C can be used in urban environments and for a wide range of applications, from pipe mapping, civil engineering, archaeology to tunnel and bridge detection.
Stream C Ground Penetrating Radar – Key Features:
Massive array of 34 antennas in two polarisations.
3D reconstruction of the underground utility network to be created in a single scan.
Automatic Pipe Detection (APD): real-time automatic detection of buried pipes and cables.
Compact size: Stream C's small dimensions enable it to survey areas inaccessible to larger array systems while maintaining the same accuracy.
Robust construction: built to the highest standards and with hard wearing materials so that it can be used in harsh, demanding environments.
3D radar tomography: real-time tomography on a GPS or total station assisted cartographic background.
Professional subsurface survey: pipes, cables and buried objects can be automatically transferred to CAD and GIS formats allowing a complete subsurface GIS based digital map to be quickly produced.
The system set up is simple – just bring it on site, unload, plug in the GPS and you're ready to work.
The vertically and horizontally polarised antennas deliver high-quality results while scanning in just one direction.
The user-friendly GPR allows real-time monitoring also for non-experienced GPR users. Geostudi Astier from Italy, Site Vision Surveys from the United Kingdom and ScanPlus Locating from Canada agreed to share their productivity and efficiency gains with the Stream C.
---
EUROPEAN CASE STUDY: Using Stream C in multiple environments
Recently, Geostudi Astier experts tested its usage for bridge and tunnel analysis in Southern Italy. Gianfranco Morelli, president of Geostudi Astier, describes how Stream C boosts their workflow and in which applications the company tested the radar.
"We use Stream C because it provides a compact way to deploy both vertically and horizontally polarised antennas and the spacing in the array is very good. The density of the horizontally polarised antenna gives the possibility to obtain 3D images of two different polarisations very quick," said Morelli.

Ground penetrating radar is frequently used by Geostudi Astier in pre-installation surveys of fibre optic networks. There has been an increasing interest in scanning bridges and tunnels, therefore, the company carried out an experimental survey using Stream C on the deck of a bridge and its sides, as well as inside a tunnel.
Monitoring, checking the data in real time, and post-processing saves plenty of time for Geostudi Astier. This efficiency allowed the team to scan more than 10,000 square metres of complex urban soil at the Grand Plaz in Brussels within a single work day.
---
Contact our Detection team on 0800 453 422 or email info@globalsurvey.co.nz
---
SHARE THIS ARTICLE