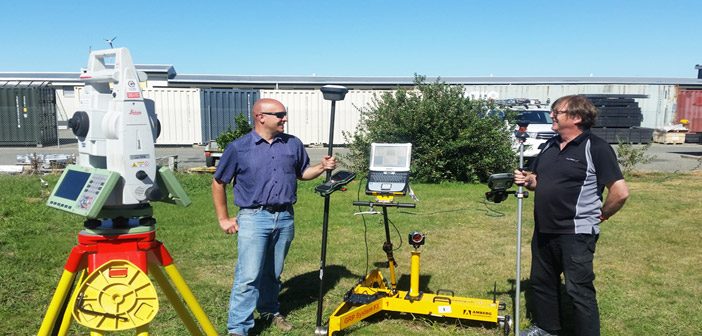 Recovering from the 7.8 magnitude Kaikoura earthquake of November 2016 has been a long time coming for those effected. Along with widespread devastation of homes and businesses in the region, the earthquake also ripped through the main transport routes that linked Kaikoura to Picton and Christchurch, closing SH1 and pushing the Main North railway line literally out to sea.
Working with the rebuild alliance partners, KiwiRail's main objective was to re-establish the transport links as a key part of the region's recovery.
The Main North Line was reopened initially to restricted freight services from September 2017 and then passenger in December 2018, two years almost to the day since the earthquake struck. Since the track re-opened, the KiwiRail survey team have been busy monitoring the new line and now need to complete asbuilt surveys of the track.
In order to deliver the work quickly and safely, KiwiRail expanded their fleet of Leica Geosystems technology to include a GS16 base station, GS18T GNSS antenna with Captivate software and a TS16 robotic total station.
KiwiRail's Amberg GRP1000 track geometry system integrates seamlessly with Leica robotic and GNSS technology. The Amberg GRP1000 track geometry system uses precise on-board sensors to measure rail cant, gauge and meterage. The addition of the surveying tools means KiwiRail can now also record accurate 3D alignment geometry for the track to support future maintenance work.
---
"For us it's all about having the right solution for the job. We have over 80Km of rail track to survey so we're looking forward to putting the Leica technology to work." Ryan Jameson – KiwiRail
---
The Leica GS18 T is especially suited to the job as it's significantly faster than any other antenna on the market. The permanent tilt compensation means that the surveyor no longer needs to level the bubble, plus it's calibration free and immune to magnetic disturbances enabling the KiwiRail team to measure quicker than ever before and right up to the track.
Our South Island geomatics team are well-placed to assist KiwiRail. Not only do they have superior technical knowledge, but they've been involved with various alliance partners since the beginning of the Kaikoura rebuild and are familiar with each stage of the project and the unique challenges of the location. They are providing training and support for the KiwiRail team as they deliver this important final stage of the process.
---
Talk to our Geomatics team for advice on your next project:
---
SHARE THIS ARTICLE