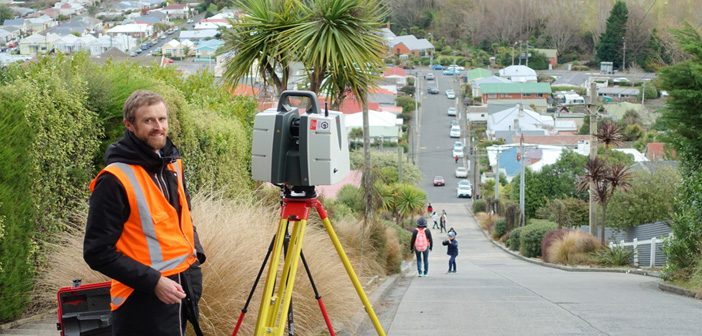 Iconic Baldwin Street in Dunedin recently lost the Guinness World Record title of "World's Steepest Street" to Ffordd Pen Llech in the village of Harlech, Wales.
Dunedin based Surveyor, Toby Stoff from Clark Fortune McDonald, has made national and international headlines with his claims that the Welsh street was measured inaccurately and therefore is not actually steeper than Baldwin Street. Toby believes that the winding Welsh street was measured on the inside curve when it is universally accepted that grades are always shown and measured on the centreline.
Surveyors across New Zealand have rushed to offer support for Toby's campaign to reclaim the title for Dunedin. Baldwin Street's reputation is a subject close to the heart of many NZ Surveyors who studied at Otago University and know the street well.
---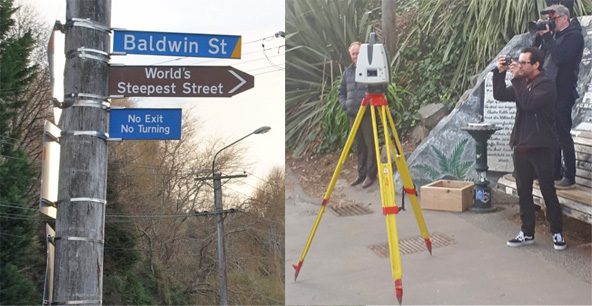 Today, Lennon Bedford, our South Island technical specialist, scanned Baldwin Street with the Leica P40. As suppliers of highly accurate Leica laser scanning technology, Global Survey are uniquely placed to accurately determine the precise gradient of Baldwin Street.
We believe that laser scanning is the best way to unequivocally determine the steepness of a street worthy of holding a world record.
The Leica P40 Laser Scanner will provide us with a dense point cloud of the road surface with hundreds of millions of points, from which we can extract precise measurement data, along with imagery. Once the data is collected we will analyse it using 3D Reshaper software to precisely determine the exact slopes and steepest parts of Baldwin St.
"Using laser scanning technology enables us to determine the precise slopes of Baldwin Street more accurately than has been possible previously using traditional methods" Ray Copeland, Managing Director – Global Survey
Baldwin St was first awarded the title in 1987, back then verifying gradient would have involved taking individual measurements and then calculating out the grades between those points. The accuracy of those measurements and where they were taken would be critical to the final calculations.
With today's advancement in laser scanning technology there doesn't need to be any margin of error.
The difference in gradient between the world's two steepest streets is marginal. Dense laser scanning point clouds will factually determine the slope of Baldwin Street beyond any doubt.
---
---
Media stories:
https://www.tvnz.co.nz/one-news/new-zealand/two-streets-countries-one-winner-worlds-new-steepest-street-wrongly-measured
https://www.tvnz.co.nz/one-news/new-zealand/dunedin-begins-taking-super-accurate-measurements-fight-worlds-steepest-street-title-ramps-up
https://www.nzherald.co.nz/nz/news/article.cfm?c_id=1&objectid=12251807
https://podcasts.apple.com/om/podcast/toby-stoff-baldwin-street-is-still-the-worlds-steepest/id175136014?i=1000444937403
https://www.odt.co.nz/news/dunedin/dunedinites-ramp-efforts-reclaim-record
https://www.odt.co.nz/news/dunedin/surveyors-gather-around-cause
---
SHARE THIS ARTICLE