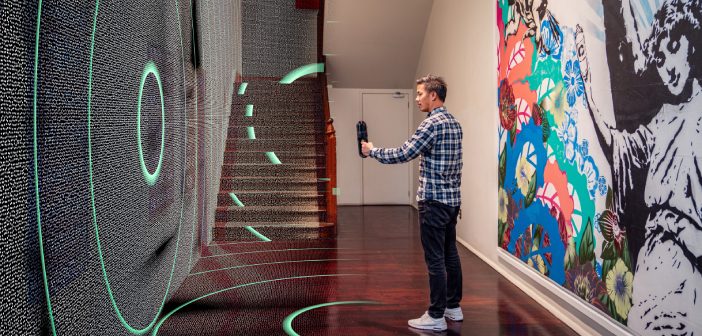 Congratulations to Context Architects on securing the first Leica BLK2GO hand-held mobile laser scanner in New Zealand.
Context Architects are not your ordinary architecture firm, their 70-strong team of architects, urban, interiors/retail designers and remediation specialists are passionate about the power of good design to lift people's lives. The Leica BLK2GO fits perfectly into their already well-established digital offering.
---

"We see the BLK2GO as a powerful point of difference for our company, enabling us to carry out our measure ups, as-builts and site observations much more efficiently. On top of this, we also have some blue sky ideas for how we can really push the boundaries of the BLK2GO's capabilities with the creativity of our team. Watch this space!"

Stephen Voyle, Managing Director – Context Architects

---
Context Architects put the client at the centre of the design process, they saw the potential of immersing clients in the design journey way back in 2015 when they set up their BIM/Digital division and Virtual Reality Lab. They were one of the first to offer clients the then seemingly futuristic experience of literally walking through a design before it was built.
Since then reality capture has developed rapidly with Leica Geosystems leading the world with innovative laser scanning solutions designed to be faster, lighter and more mobile than ever before.
---

"The impact of VR, AR and BIM on design has been enormous over the last few years. We can now virtually walk clients and their stakeholders through the space and experience it together, which provides meaningful, informative feedback resulting in a more purposeful design outcome"

Nathan Chong, Digital Solutions and Emerging Technology Lead – Context Architects

---
Laser Scanning in Motion
The Leica BLK2GO mobile laser scanner is the latest reality capture innovation from Leica Geosystems and is designed to scan complex spaces with unprecedented efficiency and speed thanks to a combination of LiDAR, SLAM (simultaneous localisation and mapping) and edge computing technologies, which enables users to expand their reality capture capabilities.
The combination of these onboard sensors gives the BLK2GO self-awareness, so it knows where it is and where it has been in space and will accurately follow a user's trajectory while scanning.
It automatically builds 3D point clouds as you move throughout the entire scan session, which can then be used to join multiple scans, be published to different data formats and generate deliverables.
When used with the BLK2GO Live App, users can get live feedback while scanning, check the device status, or do quick data inspection
---

"There is no other device on the market quite like the BLK2GO. Never before has there been such an elegant solution to capture quality, high fidelity data at the speed of the BLK2GO. It truly is an astonishing piece of engineering and design."

Tim Jervis, Reality Capture Specialist – Global Survey 

---
---
Contact our expert team for more information on Leica reality capture solutions:
---
SHARE THIS ARTICLE