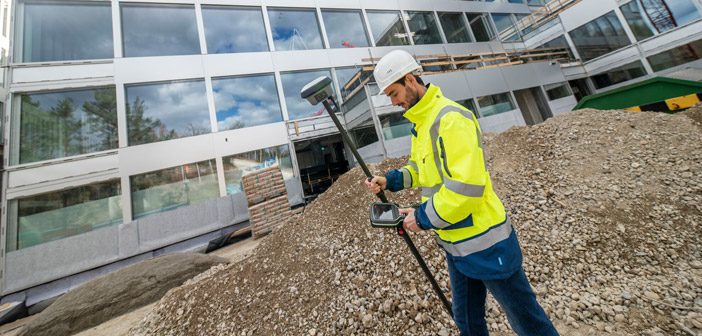 As part of our own internal training we decided to set our Survey Team a challenge:
Measure a stockpile with the new Leica GS18I GNSS, first with the tilt pole and then with imagery using the GS18I's innovative new Visual Positioning technology. Record the time it took to take the measurements and then analyse the two data sets to compare the results.
Measuring stockpiles is a fairly common activity for many Surveyors especially on construction sites or infrastructure projects. Traditionally this would have been done with a total station or standard GNSS with a bubble but the Leica GS18T maximised efficiency by introducing a reliable and accurate fully tilt-compensated GNSS, enabling Surveyors to measure much faster than ever before without having to level the bubble.
With the recent launch of the GS18I, Leica have taken it a step further with a GNSS that uses imagery and enables you to "Measure What You See" with survey grade accuracy.
So how did our team get on with the challenge?
Here are the results:
---

Number of Points Measured

Leica GS18I GNSS [RTK Points]

Leica GS18I Imagery

---

Generated Mesh Model

Leica GS18I GNSS

Leica GS18I Imagery

---

Resulting 0.1 m Contours

Leica GS18I GNSS

Leica GS18I Imagery

---

Surface to Surface Comparison

---
Conclusions
Our team were impressed with the results. Measuring this stockpile with images took 23 secs, compared to 2 mins, 10 secs by direct GNSS observations. The surface definition was significantly improved and the resulting volume more accurate as a result. Measuring with images kept the surveyor at a safe distance off the stockpile and the imagery can be recalled at any time in the future if necessary.
---
| | |
| --- | --- |
| | "The real game changer here is that the GS18I provides Surveyors with the flexibility to chose between measuring with GNSS and images depending on the complexity of the job. The results are of comparable accuracy and having images on file acts as a digital record to refer back to, take more measurements from or compare as the project progresses." Richard Harrison – Global Survey |
---
The ability to be able to say "I don't need to get down into that trench or climb that stockpile" not only improves safety but also speeds up Surveyor's work and enables them to be really efficient onsite.
The Leica GS18I utilises highly innovative Visual Positioning technology based on seamless integration of GNSS, IMU and a camera. Surveyors can measure points with survey-grade accuracy from images either in the field or in the office or alternatively create point clouds from captured images using Leica Infinity with the ability to export the geo-referenced images to your own software [such as Bentley's Context Capture] for further processing.
By using both GNSS and imagery together, the Leica GS18I enables a complete dataset to be captured in just one site visit. Minimising the need for rework or return site visits makes this the ultimate GNSS for maximising efficiency.
---
For more info on Leica GS18I Visual Positioning technology, or to request a demo:
---
SHARE THIS ARTICLE