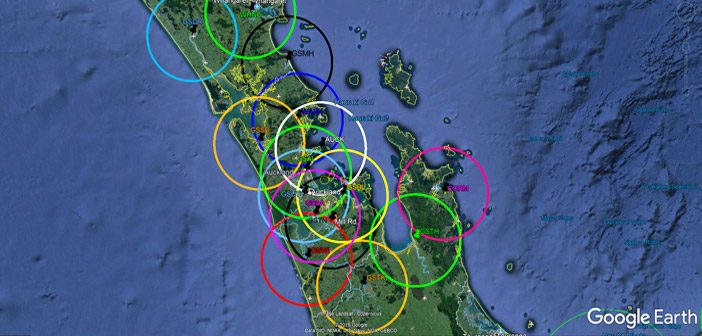 NEW GSAA – Auckland Airport Site.
We're pleased to announce an important new addition to the SmartFix network with a new station at Auckland Airport.
The new GSAA – Auckland Airport station is now live and will improve accuracy and performance for the many surveyors working in the area. We expect this station will be a great addition to the SmartFix network joining the nearby established stations at GSUT – Unitec, GSTN – Takanini and GSWI – Waiuku.
SmartFix is in continual growth mode with new stations expanding the network on a regular basis. We're well on the way to completing our mission of 100% NZ coverage!
---
Info for existing SmartFix Users:
We have processed the coordinates of the station and the agreement should be good with our other SmartFix sites however it is important that you use a rover to check that your localisation is still valid on your existing projects. Given that a lot of SmartFix subscribers use 'Nearest' or 'Network' solutions regularly, they will lock onto the new GSAA station and use its coordinates if their project is closest to the new GSAA station.
If working within approx 15Km of the airport, do a check on your control to confirm it fits nicely (within your construction GNSS tolerances). If so, then no further action is required – you can continue to use your existing localisation. If you see a discrepancy that's outside of acceptable construction and survey GNSS tolerances then a new localisation will be required. As always we recommend that you never do a one-point localisation and that the control that's used for the localisation surrounds your project.
We are here to help, if you require assistance, please contact our support team on 0800 453 422.
---
Interested in joining SmartFix?
SmartFix is NZ's most extensive GNSS Reference Station Network delivering:
– cm level real-time kinematic corrections in NZ GD2000
– post-processing solutions
– sub-meter GIS corrections
View live location info on current SmartFix stations.
You can join the SmartFix network on a subscription basis which includes support from our dedicated SmartFix team. Call them on 0800 453 422 to find out more.
Try before you buy. Register for your 30 day free trial:

SHARE THIS ARTICLE