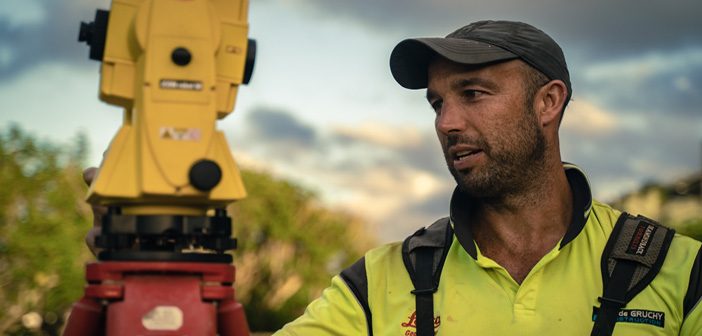 We meet Willie de Gruchy onsite in Auckland's prestigious Remuera, his current project is still in the early stages of the build, the earthworks are almost done and the internal lap pool has just taken shape. The site is tidy, everything has a place and multi-coloured string lines mark out the various features of this large executive home.
De Gruchy Construction specialise in high-end luxury residential buildings, this project is a 3 level, 1,000sqm masonry home complete with indoor heated pool, gym and a stunning double height main living area. It's clear from the plans that this complex build will result in an impressive architectural home.
WATCH: How WG de Gruchy Construction Are Adopting Digital Construction:
Improving on Traditional Methods
Willie invested in a Leica iCON Construction Total Station to deliver accuracy and improve efficiency. Combined with Leica iCON Build software, he now has a powerful solution for use throughout the lifecycle of the build, from initial earthworks through to final fit out and asbuilt.
---

"I learnt from a Master Builder, who taught me everything he knew and was very old-school. I certainly haven't lost touch with 3,4,5s and diagonals! That's what I pass on to my team, solid traditional skills now combined with the precision that technology brings, it's the best of both worlds. I'm certainly not a highly tech whizz kid, far from it! But you don't have to be nowadays, the technology does the hard work for you. I have found the iCON software really easy to pick up and such an amazing time-saver." Willie de Gruchy – Owner, WG de Gruchy Construction

---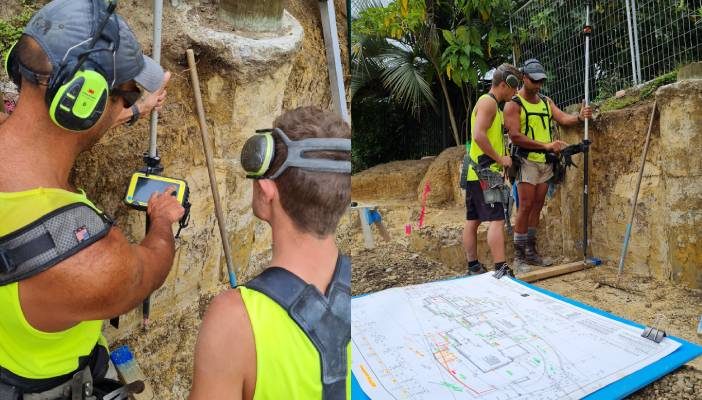 Getting Creative with Curves
Willie and his team have found new and creative ways of using the Leica iCON total station to solve problems onsite. Recently they discovered that the driveway side block wall couldn't be located as per the design because the adjoining retaining wall footings were in the way. So using the Sketch application in the iCON Build software, they adapted the design in the field to modify the curved wall so that it would fit onsite.
The result is a perfectly curved block wall that adds interest as a stylish feature along the driveway.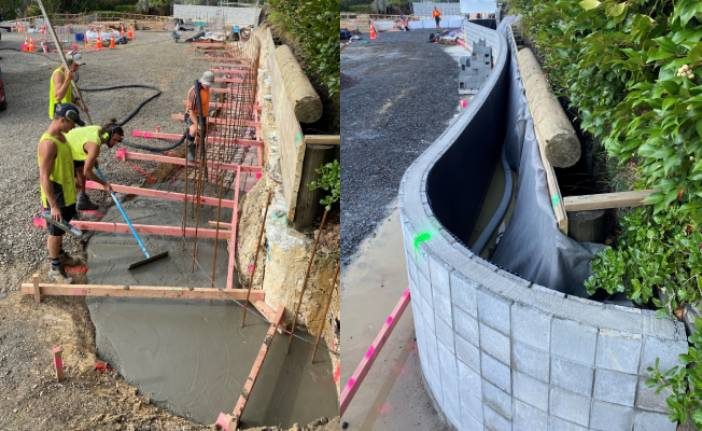 Willie told us that it was a case of necessity being the instigator for innovation. They had come up with something to get around the problem. The owner and the architect were keen on the idea and are really pleased with how the new curved wall came out.
Everyone who sees it asks Willie how they managed to do it! They had the tools to set out curves quickly so the technique they used was to set out an arc for each of the curves using the total station and then plot points along the arc at the same width as the blocks. Once it was set out, the team knew exactly where to place each block to create the new curved wall.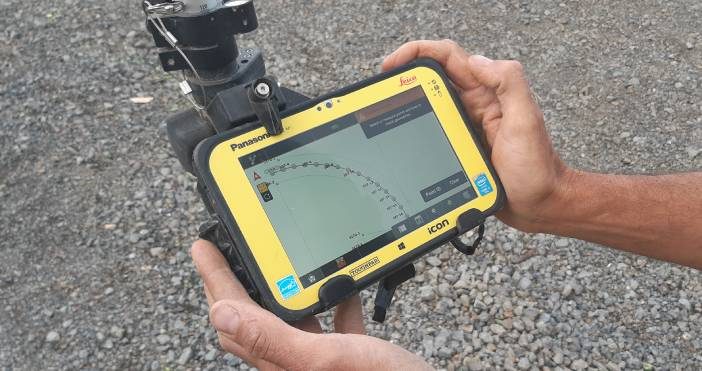 Upping Your Game with Digital Construction
The tangible benefits of building with digital accuracy include plenty of cost savings along the way. It's all about controlling your resources, minimising the number of times Surveyors come out to site, not over digging and therefore not having to bring fill or concrete back in.
High accuracy and precision ultimately delivers efficiency for any build. With a project of this size, there is a need to run a tight ship or else all the small things add up and the budget gets crunched.
---

"Keeping control of the build's progress and budget is easier when you don't have to wait around for other contractors or consultants to complete their part of the project. I like to do as much as I can onsite with my own guys, without calling in other people, that helps keeps costs down. Learning this technology has helped me maintain control over the build as a whole and helps prevent things running behind schedule." Willie de Gruchy – Owner, WG de Gruchy Construction

---
This team run a tidy operation, the site office is immaculate and everything onsite has its place. Willie is what you'd call a traditional builder, with an eye for detail and a desire to have everything done properly. Willie knows every last detail of this project like the back of his hand and is passionate about delivering it as near to perfection as is humanly possible.
Training & Building Knowledge
---

"Willie is a perfectionist, which is exactly what you want in a builder! He's chasing millimetre accuracy and doing most of the set-out work himself to a very high standard. It's my job to make sure customers know how to use the equipment and are getting the most out of their investment. The great thing about Willie is that if he has a question or is trying something new, he just gives us a call and we talk it through. Once he's learnt something new and upskilled himself, then he's got it for life". Haydn Bradfield – Construction Solutions Manager

---
One of the key benefits of being a Global Survey customer is the level of training and support provided to help customers get the most out of their investment. Everyone needs training when taking on new technology and access to our team of specialists provides customers with the confidence to know they have someone to call, to ask questions, or just to double check they're on the right track.
---
To find out more about Leica iCON Total Stations contact our team on 0800 453 422 or info@globalsurvey.co.nz
---
SHARE THIS ARTICLE