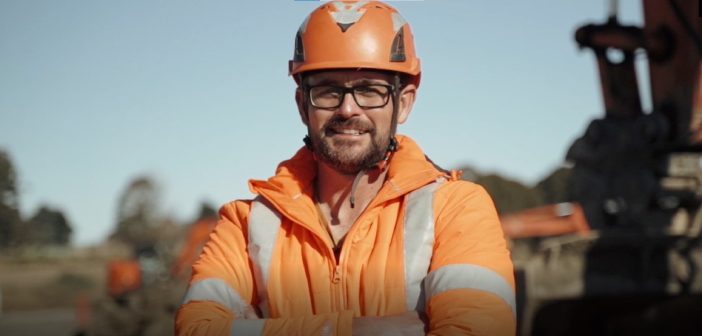 Contractor profile: Taggart
On the outskirts of Christchurch, the earthworks for the Ravenswood subdivision stage 3 are underway. Taggart are the main contractor, tasked with transforming this section of the project into a subdivision for 200 family homes.
WATCH: Onsite with Taggart and their Semi-Auto Excavator
We arrive onsite on a stunning Christchurch winter day, crystal blue skies and crisp sunshine. Matt Pussell, Managing Surveyor signs us in and walks us over to meet Steve, the operator of their Hitachi ZAXIS 210LC that has been recently upgraded to Leica iCON MC1 semi-auto.
Steve is all smiles "Look what I did this morning" he beams proudly showing us the surrounding area where he's been using the semi-auto excavator for precision grading. How are you finding it Steve? "Loving it, my new favourite bit of kit!"  he says.
---
| | |
| --- | --- |
| "We're using the Leica iCON MC1 semi-auto system for final trim of sub-grade and also finished level of top soil. Investing in technology enables us to get those short term gains across the board, that help deliver projects on time or ahead of schedule" Matt Pussell, Managing Surveyor – Taggart | |
---

How does Leica Semi-Auto Machine Control work?
With the semi-auto system, you have the option to control not just the boom, but also the bucket and the angle of attack, plus also the tilt bucket so that it's controlling all parts of the excavator and digging to grade precisely every time.
From an Operator's perspective the semi-auto systems significantly reduces the operator's fatigue, you don't have to hold any buttons down to put it into auto. As you bring the stick in, the machine will automatically go into auto provided you're within about 150mm of being on-grade.
'The benefits that the Leica semi-auto machine control brings, is that on a project like this with a complex fill, the system allows us to control those layers very precisely, which was particularly important to Taggart on this project." Ray Copeland, Managing Director – Global Survey
---
 
Reaping the rewards of technology investment
With a long heritage in the Canterbury area, Taggart are a family owned and operated business through and through, with strong values and a focus on excellence. One of Taggart's core values is "Pride In Our Work" and having these types of machines with this technology means they can consistently finish work to a very high standard.
---
| | |
| --- | --- |
| | "We've had a long-standing relationship with Mark & Paul Taggart and they've really embraced technology over the years as their business has grown. What we find with a number of our customers is that they have a mixed fleet across their excavators, dozers and graders. The Leica iCON MC1 system provides them with a consistent platform, with the same design files across their entire fleet of machinery." Ray Copeland, Managing Director – Global Survey. |
---
Taggart have been using Leica machine control for many years now. With an operation of their size on projects like Ravenswood, it's particularly beneficial to be able to use one piece of data across multiple machines as a rover, total station, excavator, grader, it all helps with the efficiency across the project.
Matt added "I can give any piece of yellow kit to anyone onsite, earlier today I gave a rover to one of the labourers, with a 5 minute induction to the cut/fill screen and he's away. Checked in with him an hour later and he's fully up to speed and confident in what he's doing."
---

Looking to the future
Matt has been using using Leica technology for most of his career and values the support he gets from the Global Survey team. "I've been using Leica gear since 2001 and the development from then to now, for me has been outstanding. The team here at Taggart enjoy using the gear, it fills them with confidence that they're building something in the right place. Dealing with Global Survey has been great, the quality of the people and quality of the installs is great, even down to the position of where they put the gear on the machines. I just pick up the phone and make a call, they love my curly questions!"
Taggart are looking to the future as they continue to grow and continue to invest in technology that helps them deliver to projects to a high standard. The Global Survey team are right behind them, on hand to provide expert technical advice, training and especially to answer those curly questions…
---
---
SHARE THIS ARTICLE