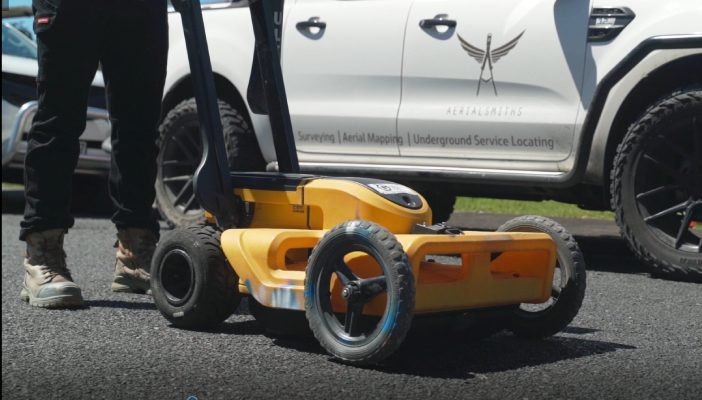 We are in Papatoetoe, South Auckland, with the Aerialsmith Surveying team, who have been tasked with accurately locating the underground services in this area before excavations begin. On this job, they will be using Leica GPR (ground penetrating radar) as the right tool to find all underground assets such as gas, power, water and communications.
---
| | |
| --- | --- |
| | "We choose to use the Leica DS2000 GPR for this task, what I like about the DS2000 is its ease of use, maneuverability, user friendly output and accuracy when locating underground assets. The DS2000 has an agronomical design, its rugged but also lightweight and it allows us access to all locations such as in the bush, or on the footpath. We know we can access all areas to do our scanning efficiently." – Luke Brownlee, Team Lead at Aerialsmiths Surveying |
---
It's really important for Contractors who are coming onsite to start excavations, that all the underground services are accurately marked on the ground, before they begin the work. This is an essential part of the process and enables them to safely excavate around any identified services and minimise any risks of damage.
If damage to underground utilities occurs and there is a utility strike, it can be extremely hazardous for the operator and any people in the area, not to mention the expensive and time lost rectifying even minor damage.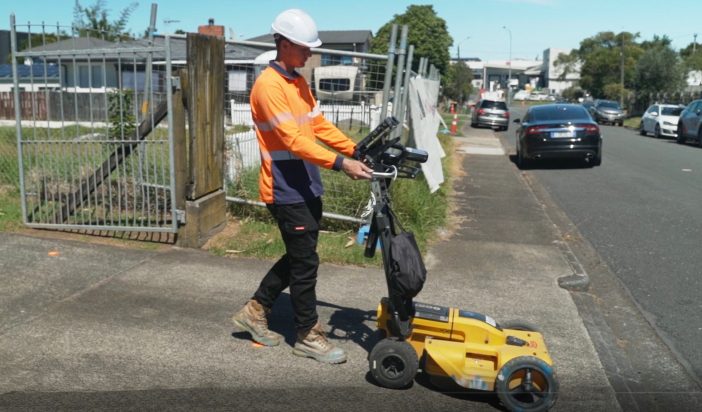 The Leica GPR enables the specialist team at Aerialsmiths to effectively see everything under the ground, metallic and non conductive assets can be located accurately and marked out. The four wheel design also enables them to cover a relatively large area, such as a street, quicker than using a cable locater by itself.
When maneuvering the DS2000 GPR in rows across the site in a systematic way, they can be confident that they have complete coverage of the area and nothing has been missed.
---
| | |
| --- | --- |
| "We are firm believers in using the latest technology, we prefer to use the Leica range, its what we know and its very accurate, for what we are doing onsite. We started Aerialsmiths in 2017 with 2 people and now have a team of 9 specialists, ranging from aerial mapping, photogrammetry and LIDAR, underground detection services and construction surveying." – Felix Fielding, Director at Aerialsmiths Surveying | |
---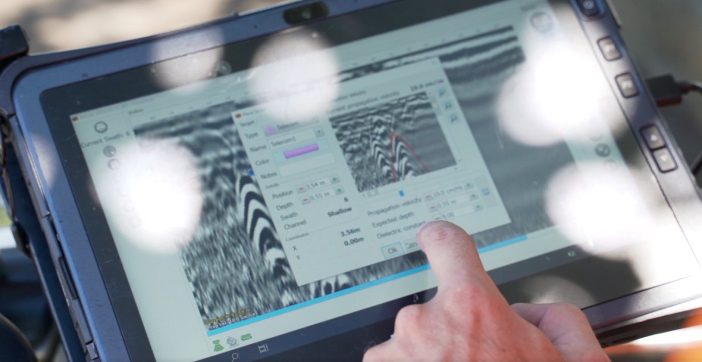 One of the great benefits of the Leica GPR is the output of real-time data on the integrated screen, here we can see the radar waves penetrating the ground and refracting back up of underground services. The peak of the refraction can tell us the accurate location of and the depth of underground services, and this enables the user to map out the area for their client in a highly accurate way.
---
| | |
| --- | --- |
| | "Aerialsmiths tell us that they appreciate the hands on customer service, I'm always available for when challenges arise onsite, and they know the wider Global Survey team are here to support them too. These guys always want to know when there are new advancements in technology, so they can keep up to date and maintain their competitive edge." – Campbell McNair, Construction & Detection Specialist – Global Survey |
---
As early adopters of Leica technology, Aerialsmiths have steadily expanded their technology fleet over the last 5 years to include Leica iCON survey equipment, ground penetrating radar, and most recently the C-thru concrete scanner. This highly specialist team are able to cover all bases for their clients, anything from aerial to land and through to underground services.
---
To find out more about Leica GPR, contact our team on 0800 453 422 or info@globalsurvey.co.nz
---
SHARE THIS ARTICLE