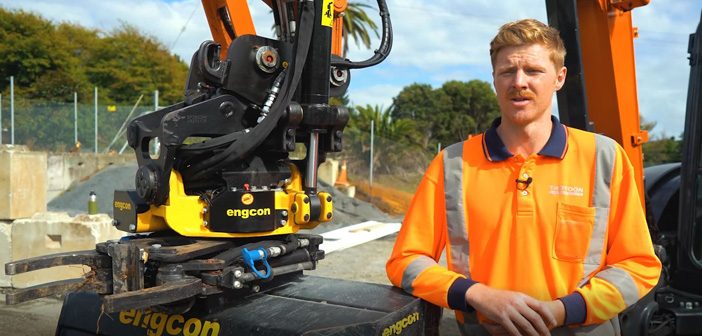 Contractor profile: Troydon Contractors
Jumping into the cab of their 5.5ton Hitachi ZAXIS 55U that was recently fitted with a new engcon tiltrotator, Blair Abernethy from Troydon Contractors was all smiles. "Let's put the new kit to work!" he said as he got stuck into the final trim of Kowhai Intermediate School's new carpark surfacing in Mount Eden, Auckland.
There's no doubt that Pukekohe based Troydon Contractors are a family company through and through, with Darren Abernethy at the helm for 35 years and all of his children involved in the business today.
At first glance, they seem like traditional old-school contractors, but looking deeper, there's much more going on here than first meets the eye.
WATCH: Deals on Wheels video on Troydon Contractors

Embracing the future
Driven by sons Blair and Troy Abernethy's interest in innovation, Troydon Contractors made a clear decision back in 2016 to embrace construction technology in a big way, and they haven't looked back since.
---
| | |
| --- | --- |
| | Caleb Hudson, General Manager told us "We truly believe that the future of the civil industry lays in the productivity gains that technology delivers. Keeping up with the advancements in technology is exciting and it's also the key to getting the next generation interested in careers in civil construction". |
---
Troydon Contractors began investing in Leica construction technology and, as they grew, so did their fleet of machinery fitted with Leica iCON GPS machine control including excavator, dozer and boxblade systems. Used in conjunction with their Leica rovers and robotic total stations, they are now in a position where this technology is used on just about every project.
"We've seen the benefits that technology delivers over the last 5 years, it's made a huge difference to our business growth and positively impacted our teams' skill set. Not only have we seen a boost in productivity, but we are able to deliver consistently accurate results for our customers and that's been really important to us".
Expanding the toolbox
Recently the Abernethy brothers set their sights on investing in a new tiltrotator, having seen them grow in popularity across the US and Europe, they were keen to give them a go.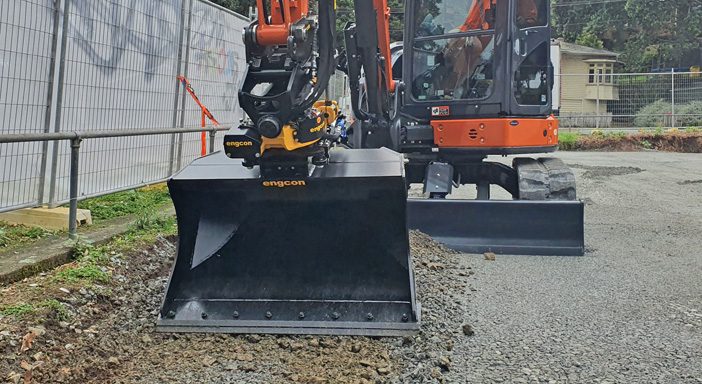 Troy Abernethy told us "We could definitely see the benefits of using a tiltrotator in terms of versatility, especially when working in tricky and tight situations, which is most of the jobs in Auckland these days".
After researching what was available in NZ, they demoed the engcon tiltrotator and were hooked by its capabilities and "sandwich" set up, enabling the user to take the tiltrotator off when not needed and maximise breakout torque for plain digging and maximum lifting capacity when required.
---
| | |
| --- | --- |
| "We really liked the engcon, it's a quality brand with all the features we wanted and more. It also gives us the functionality of a rotating head when using our existing attachments, which will be a huge asset. We especially like the mobile app which lets us change the speeds or check the settings, plus if we ever need support, the Global Survey team can dial in remotely to check or reconfigure the system too." – Troy Abernethy | |
---
Blair told us that once he'd been working with the engcon tiltrotator, it opened up a new way of thinking about what he could do with it. He believes it will be a very valuable tool for final trim of a sub-grade with technical fall requirements or final battering / shaping of areas to finish a job to the exact design proposed.
Although Blair was the first at Troydon to take the engcon for a spin, he was confident the whole team would be wanting to have a go. He reckoned it only took him about half an hour's training to get up to speed with operating the tiltrotator.
"It was very intuitive to use, I found the 360-degree infinite rotation relatively simple to operate. Our team are pretty keen on new tech, they've already mastered the Leica iCON GPS, so no doubt they'll be lining up for a turn on the engcon!"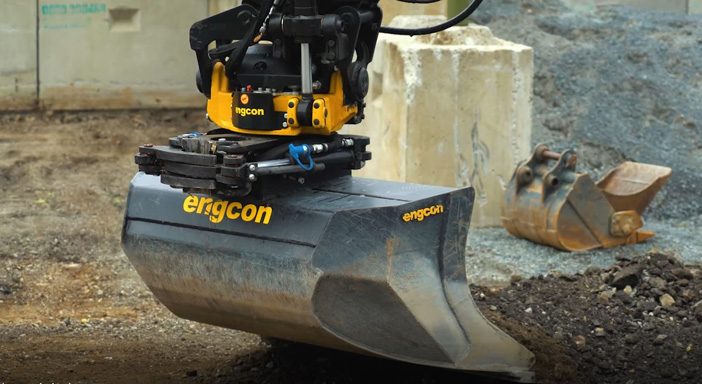 Changing the narrative
Troy, Blair and Caleb strongly believe that technology is the way forward for the industry, especially when it comes to creating positive career pathways.
"We need to change the narrative about careers in civil construction, we are on the way to becoming a high-tech industry and should be attracting smart people that get excited about the capabilities of technology now and what's coming in the future. Civil construction is a great industry to be involved in and a great career path."
Troydon Contractors use education and technology to upskill their team. Their thinking is that what's good for the team, is good for the company and the industry as a whole.
"We take a big-picture view. We want all our team to progress their careers, and educating them on technology is a key part of that progression."
Building on past successes
"Over the years, we've built our reputation on quality and consistency. Our customers know they can rely on us to get the job done to a very high standard in a timely and cost-efficient way. Investing in technology has been an important part of us being able to deliver projects on time and with precision to the design."
Troydon Contractors specialise in end-to-end civil works, everything from bulk earthworks to drainage and right through to the finishing surface. Usually the team work on multiple medium to large commercial projects across the Auckland region, including delivering projects for New World and Pak n Save supermarkets, schools, retirement villages and warehouses.
---
| | |
| --- | --- |
| | "Having suppliers we can rely on has been incredibly important too, we can't have machines sitting idle or be waiting around for ages for a call back. We already had a trusted relationship with Global Survey as we've been using Leica GPS for years now, so getting the engcon from them was the natural choice." – Blair Abernethy |
---
Blair added "We can't speak highly enough of the team at Global Survey, they've been amazing to deal with. Always available whenever we need assistance and always happy to help with support and training. We share a can-do attitude and we hope to continue our relationship with them for many years to come."
The Abernethy brothers are looking to the future with innovation but also want to continue their father's tradition of focusing on family values and giving back to the community and the industry. "Dad is a legend in the industry, 35 years of building up a great business, having a positive approach and really valuing our team has been a huge influence on us and we definitely want to continue that legacy as we move forward".
---
Find out more on Troydon Contractors: www.troydon.co.nz
Visit www.globalsurvey.co.nz/engon or email info@globalsurvey.co.nz for more on engcon tiltrotators
---
This article first appeared in Deals on Wheels magazine and is reproduced here with permission.
SHARE THIS ARTICLE