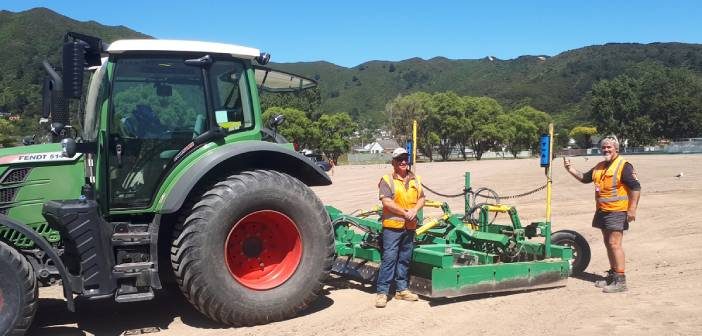 The iconic Wellington Basin Reserve is well known as the home of New Zealand Cricket and admired for its rich history and superior playing conditions. Dating back to 1840 this historic venue has hosted many world-class events including the recent Black Caps test match victory against India.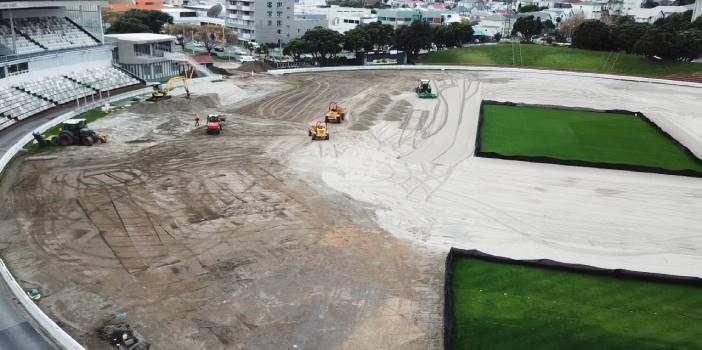 Keeping the ground surface up to international playing standard is no mean feat. When an annual independent surface performance test identified that the top of the turf carpet had begun to deteriorate and could cause potential drainage issues, Mexteds were called in to help.
With a 28 year history of working on the Basin Reserve, Mexted Performance Sports Surfaces were trusted with creating a free-draining surface for the outfield that met the New Zealand Cricket Ground Warrant of Fitness standards.
---
A Mammoth Task and 2,000 Tonnes of Sand!
The Basin Reserve's outfield is constructed of a sand carpet on top of a clay-loam soil and is connected by two drainage systems which act as a channel for water to pass through to the primary collection system. For each system to work all three need to be functioning properly.
The surface restoration plan involved planing the top 60mm off the surface and replacing with 50mm of new 2mm turf sand, 2,000 tonnes [58 truckloads] in total sourced from a quarry in the Waikato.
The existing outfield sand was repurposed on other jobs, keeping costs down and also preventing unnecessary landfill, all part of Mexteds sustainability program that ensures as much material as possible is recycled.
---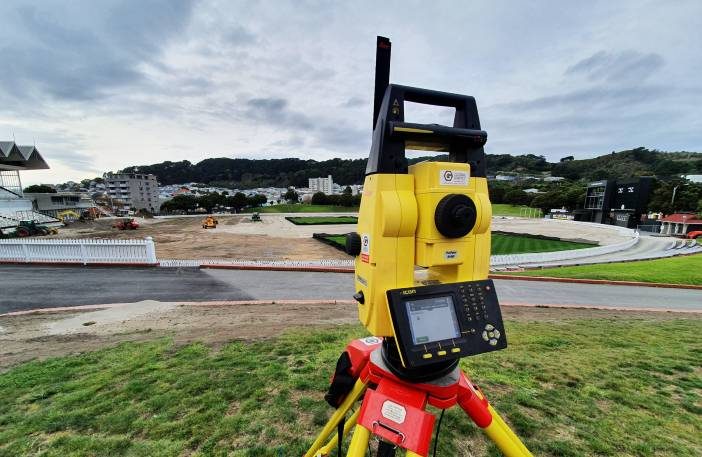 Delivering Absolute Precision
Mexteds have had immediate success with the installation of their Leica 2D Dual Laser system on their custom built land leveller however the Basin Reserve work was not a simple 2D job and required a 3D model of the surface.
They needed to use a more advanced system for their leveller so decided to hire a Leica iCON 3D upgrade kit as well as a Leica iCON Robotic Total Station.
The 3D upgrade on the leveller machine was installed in an afternoon and was calibrated, benchmarked and ready to go to work the following day. The team used a combination of survey control points and reflectorless targets on the advertising billboards on the stadium when re-sectioning the total station resulting in reliable millimetre precision every time.
"We found the Leica technology to be really good, top notch, it worked really well. If we didn't have the Leica technology it would have taken a lot longer."

Chris Parkinson, Operations Manager – Mexteds
After some initial training, the Mexteds team were impressed with how easy to use the 3D system was and how it delivered precise control over the blade at all times showing position on the job, cut and fill heights as well as easily changed vertical offsets.
---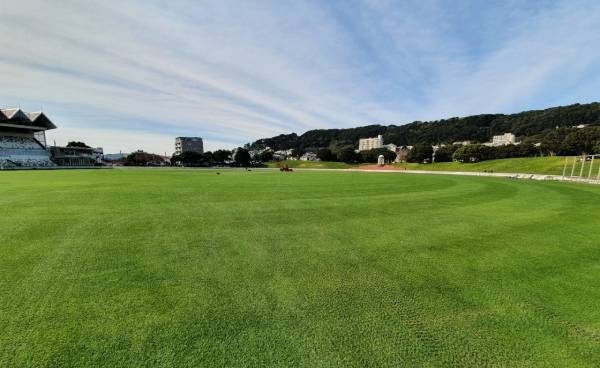 Bring on Cricket Season!
The Mexteds team worked collaboratively with the Basin's experienced ground staff often working 7 days a week to get the surface ready on time and on budget.
The Basin Reserve's outfield has now been reseeded and is in the grow-in stage enabling this historic venue to continue to deliver world class events and a platform for our sports stars to perform & grow.
"From a player/coach/official point of view being able to get on and play without loss of time and overs, getting value for shots if you're a batsman and for the fielding side having trust in a surface that will ensure is really important," said Faith." Hagen Faith, Turf Manager – Basin Reserve 
---

About Mexted Performance Sports Surfaces
Mexteds are a 100% Kiwi family-owned and operated business going back three generations. They specialise in high-performance sports surfaces including turf construction, drainage and playing field preparation and maintenance.
Their fleet of specialist equipment combined with Leica positioning technology and a very knowledgeable team has delivered Mexteds an enviable reputation built on the back of quality and performance.
"We chose to work with Global Survey because they are brilliant to deal with. They have similar values to us, they do what they say they're going to do and we can't ask for better than that"

Chris Parkinson, Operations Manager – Mexteds
Contact the Mexteds team to discuss your sports surface or field maintenance:
---
Sign up here to receive Global Survey updates, customer stories and new product releases:

---
SHARE THIS ARTICLE