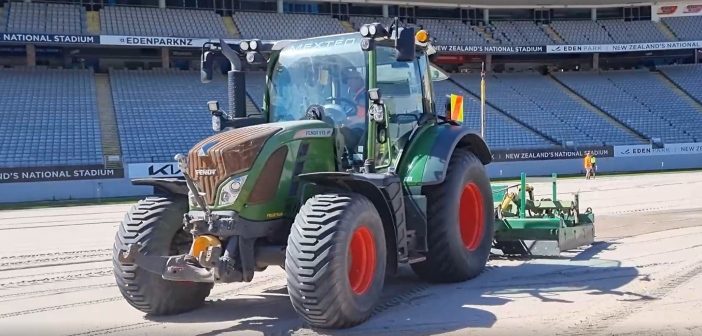 We're onsite with the team from Mexted Sports Turf at Eden Park in Auckland. After three years, they've returned to again complete a resurfacing project at New Zealand's National Stadium. With short time frames and an entire stadium ground to resurface, the pressure was on to get it right first time.
This project involved taking 50mm off the entire surface, then trucking in 850 tonne of premium sand that is then graded out with precision, to form the new surface. Mexteds are using the Leica iCON 3D Grading system to deliver the millimetre accuracy required for this job. The entire surface is then re-turfed and ready to host the next sports event in just two weeks time.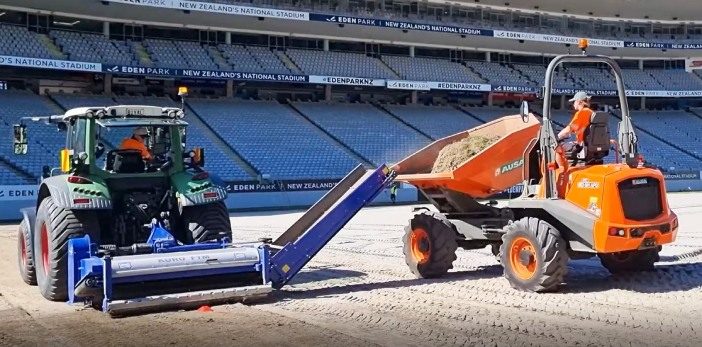 "What we like about the Leica gear is that its easy to use, its accurate and its reliable, we've taken it to all our jobs and it delivers every time." Cameron Mexted – Managing Director, Mexted Sports Turf
---
Construction technology that delivers precision
On a project like this, the process typically involves using a Leica Total Station to pick up all the key points, like the wicket block and the concrete nib around the edges, that then forms a 3D model of the surface. The 3D model is then loaded onto the machine control system on the machine. The system compares the design with the actual position of the blade using a highly accurate cross-slope sensor and a total station.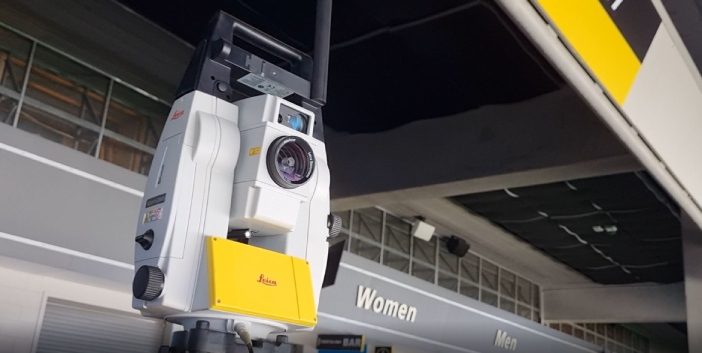 "Mexteds are using a Leica iCON iCR80 Robotic Total Station, a highly precise instrument that measures 10 times a second to the prism and sends its data through to the machine control system onboard the machine. The machine control panel inside the machine cab displays the design in 3D for the operator, and compares the position of the blade with the design and then adjusts the blade accordingly. The results are within a few millimetres of absolute perfection." Ray Copeland – Managing Director – Global Survey
---
No room for errors on stadium projects
With these projects in a stadium environment, there is very little time for errors or rework. With only a week to complete the job, the experienced team at Mexteds put in the long hours, making sure that they're utilising the latest technology to deliver first-class results for their clients.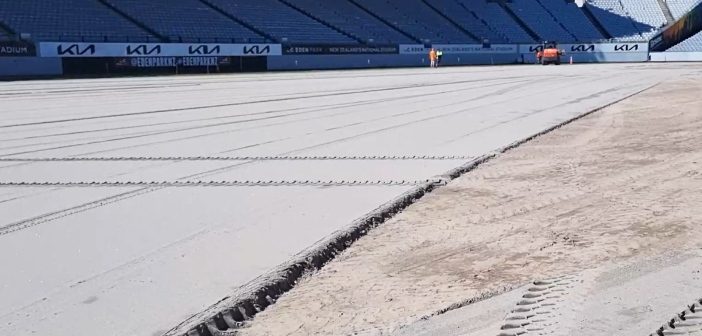 "In terms of support, we highly rate the Global Survey team. We're a national company, regularly travelling up and down the country and it's great to know that the Global Survey team are always there for us, and that they understand our time pressures, should we need any technical support." Cameron Mexted – Managing Director, Mexted Sports Turf
Based in Porirua, Mexted Sports Turf offer a wide range of services and specialise in the drainage, construction and maintenance of natural, hybrid and artificial turf for all sporting codes across New Zealand.
---
Talk to the Global Survey team about precision construction technology – 0800 453 422 / info@globalsurvey.co.nz
---
SHARE THIS ARTICLE