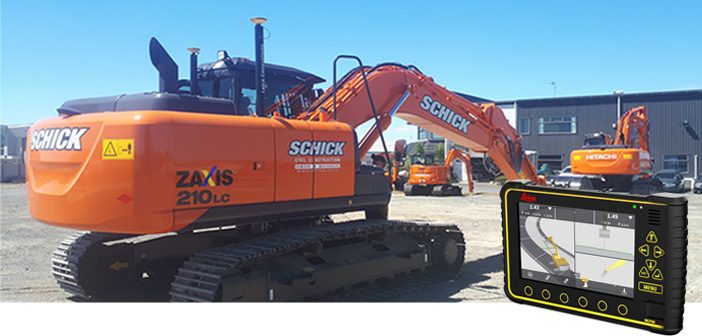 The new Leica MC1 solution consists of a state-of-the-art MCP80 control panel combined with next generation machine control software. Leica Geosystems delivers an intelligent and intuitive hardware and software combination.
Leica MC1 solution offers a unified hardware platform with common software interface, across multiple machines that integrates seamlessly with the Leica iCON suite of products. Leica MC1 can be easily interchanged, customised, and system components upgraded to deliver the most flexible and cost-efficient solution on the market today.
The cable-free Leica MCP80 control panel can be easily transferred between multiple machines, automatically recalling machine calibration information. With easy snap-lock functionality, the Leica MCP80 is quick and easy to  transfer or remove overnight for security.
---
Intelligent Software
The Leica MC1 solution guides the operator using 3D reference models. Design information and real-time cut/fill indications are displayed on the MCP80 control panel, enabling efficient and accurate excavation to the reference design.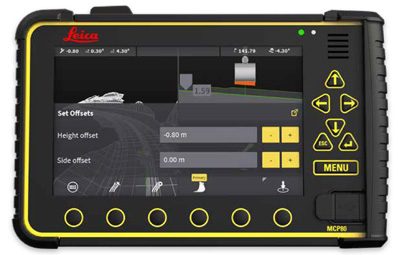 With simple wizards, the operator is guided through the Leica MC1 software interface. The solution has been specifically developed to boost productivity and operator satisfaction.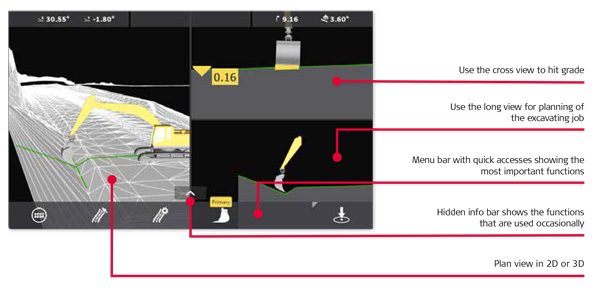 A shallow menu structure enables easy management of all project files. Select full screen or split screen to guide you to the most useful view of your project.
---
Share Data Seamlessly
Leica ConX enables project managers to easily manage and share data in real-time, on any mobile device, through a powerful cloud-based solution.
Now you can share data seamlessly between multiple machines, GNSS rovers and total stations to manage designs, volumes and asbuilt data.
---
Embrace intelligent construction so that projects can be completed on time, on budget and to the highest specifications. Leica's range of connected site solutions increase productivity and profitability.
Our machine control team are only a phone call away. With a team of 9 highly skilled experts we are uniquely positioned to deliver industry-leading service and unparalleled support for our customers.
Talk to us for more info on Leica MC1 and integrated Leica iCON solutions.
---
SHARE THIS ARTICLE