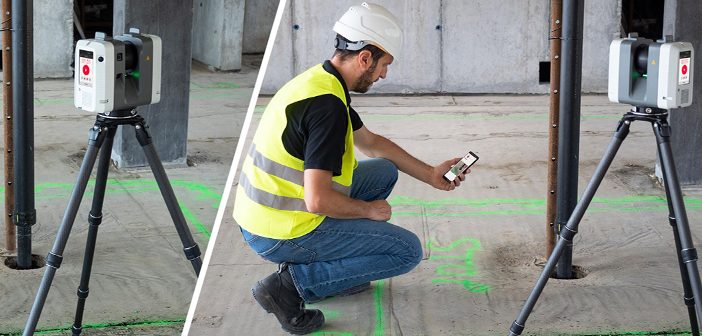 The Leica RTC360 is a first-class laser scanning powerhouse that was announced in 2018 to outstanding reception. It helped to maximise productivity and efficiency for construction professionals, delivering time-saving and highly accurate 3D capture results.
Since its launch, the Leica RTC360 has led the market as the world's fastest laser scanner. In a nutshell, it's unmatched speed and unique features out-class its competitors at every turn.
But did you know the RTC360 is available in a "light" version? The Leica RTC360 LT is a pared down version of the full-spec scanner but both variations have their own appropriate applications.
---
Externally they are 95% the same, but there are two main differences between the RTC360 and RTC360 LT versions:
1. Product exterior: VIS functionality
The Leica RTC360 LT has one externally visible difference, which is that it has no Visual Inertial System (VIS) functionality. The Leica RTC360 meanwhile has 5 VIS cameras which are visible on the housing.
How does VIS work? The 5 VIS cameras calculates the relative position and orientation data of the scanner in real-time, while it's being moved in between different areas and setups, this is then logged directly into the Leica Cyclone FIELD 360 mobile app for instant visualisation.
This streamlines the entire pre-registration process and shortens the time needed to process data in the office, saving valuable time and money. It also means that the entire scanning process is faster and simpler with the Leica RTC360, while manual alignment is required for registration using the RTC360 LT.
2. Scanning speed
The Leica RTC360 LT has a slower scanning speed of 1 million pts/sec, which is half of the speed of the Leica RTC360 at 2 million pts/sec. However, it's important to note that the quality of the data captured is the same.
---
Which scanner is right for you?
The Leica RTC360 is the superior choice for professionals that specialise in laser-scanning or deal with laser-scanning projects on a frequent basis. It is loaded with features that maximise speed and performance as well as automating registration processes, enabling users to  improve productivity and complete projects faster. An ideal investment for regular laser-scanning usage.
But a slightly simpler setup could be more appropriate , the Leica RTC360 LT is perfect as the younger brother of the RTC360. Although it has lesser speed and automation capabilities, it comes with a lighter investment cost that doesn't compromise on quality. This is best fit for those that would only touch on laser-scanning occasionally, or are seeking an entry level option for introducing laser-scanning to their workflows.
Comparing Leica RTC360 versions:
| | | |
| --- | --- | --- |
| |   | |
| | Leica RTC360 | Leica RTC360 LT |
| Maximum range | 130m | 130m |
| Imaging Speed | < 1min | < 3min |
| Scan Speed | 2,000,000 pts/sec | 1,000,000 pts/sec |
| Laser Wavelength | 1550 nm (invisible) | 1550 nm (invisible) |
| Max Resolution | 3 (3/6/12 mm @ 10 m) | 3 (3/6/12 mm @ 10 m) |
| Robustness | IP54 / closed mirror | IP54 / closed mirror |
| Temp Range | -5°C to +40°C | -5°C to +40°C |
| Internal camera | ✔ | ✔ |
| Onsite Pre-registration | ✔ | ✔ |
| Cloud to cloud post-processing | ✔ | ✔ |
| Visual Inertial System (VIS) | ✔ | ✗ |
| Tilt Sensors | IMU based | IMU based |
If you are interested in learning more about the Leica RTC360 and the capabilities of scanning technology, talk to our team of technical specialists. We'll be able to suggest a solution that is right for your requirements and includes training, servicing and industry leading after-sales support.
---
Contact us by email to start the conversation or call 0800 453 422
---
SHARE THIS ARTICLE