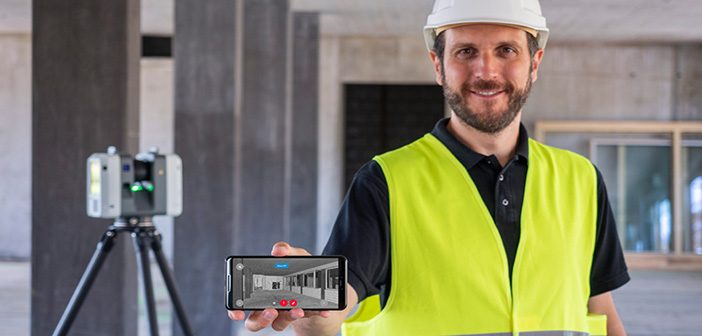 The latest version of the Leica Cyclone FIELD 360 mobile app streamlines field data and documentation with post-processing activity, making your reality capture experience powerfully efficient, accurate and flexible. It is fully compatible with the Leica RTC360 / Leica RTC360 LT and the Leica BLK360 laser scanners and is now available on iOS and Android smartphones.
Now users have the flexibility to choose which device to work on – either a smartphone or tablet.
Discover why the Leica Cyclone FIELD 360 mobile app is the perfect reality capture companion:
Leica Laser Scanning Solutions and the Cyclone Field360 App
Here's our top 3 benefits delivered by Leica laser scanning solutions:
1. Increased Productivity
Boost productivity and minimize manual work by streamlining data captured onsite to post-processing in the office with the FIELD 360's App visualisation features such as Intensity Colouring, Tagging, Silhouette View and Scanner Live Position (RTC360 only).
2. Quicker pre-registration
Scan data from multiple setups captured with the RTC360 laser scanner are automatically tracked and processed by the unique Visual Inertial System (VIS) technology. The captured scan data is transferred immediately in real-time and setups are pre-aligned for instant visualisation within the Cyclone FIELD 360 app.
User operation is simple and intuitive: the app automatically presents a bird's-eye view of the scans in 2D mode, allowing you to carry out a quick visual alignment by simply dragging and rotating them. At the click of a button, the Quick Link auto-alignment feature 'tightens up' the visual alignment so that links can be created between multiple scans, locking them together as a bundle.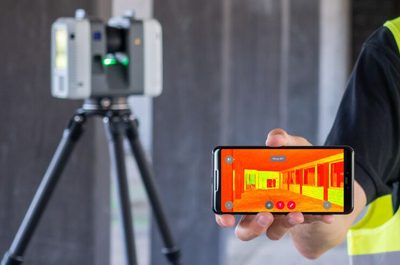 Users capturing multiple setups with the BLK360 imaging laser scanner can now benefit from the new Pre-Align feature within Cyclone FIELD 360. Unlike the RTC360, the BLK360 Pre-Alignment does not rely upon VIS technology. BLK360 Pre-Alignment detects the geometry of the scans, such as walls and major scene features, and at the click of a button, approximates their orientation so you can start to create a bundle.
3. Projects in 3D on your mobile device
Access the entire project in the palm of your hand with an intuitive user interface and flexible functionality. Users can view the entire project on the mobile app in their preferred colour profile: full High-Dynamic Range (HDR), rainbow intensity, or greyscale.
Full imagery and pre-aligned point cloud data are delivered directly to the smartphone or tablet, which can then be visualised in 2D, 3D points and 360 imagery so that users can conduct onsite quality control checks quickly.
The data is then post-processed in Cyclone REGISTER 360 which features intuitive colour-coded error reporting and is customisable to each project's needs. Users can confidently publish a Registration Report after project completion including detailed quality reporting and image assets to deliver straight to clients.
These features and benefits make the Leica Cyclone FIELD 360 a truly unique solution that simplifies, streamlines, and improves on data capture workflows.
---
To discuss Leica laser scanning in more detail, contact our expert team.
---
SHARE THIS ARTICLE