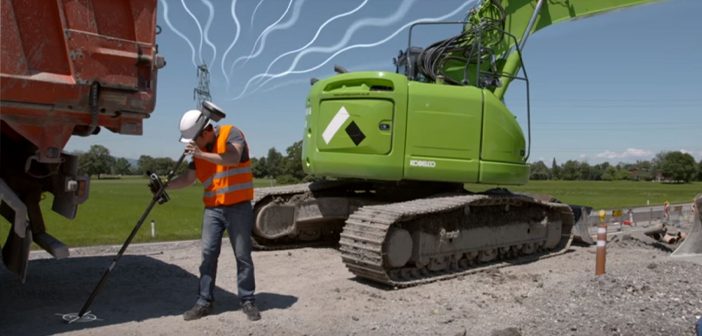 The world's fastest and easiest-to-use GNSS smart antenna was recently announced at the INTERGEO 2017 Conference in Berlin.  Leica GS18 T is being described as the amazing new stand-out product set to revolutionise the survey world.
Watching and leveling the bubble is now a thing of the past, the new Leica GS18 T combines GNSS and inertial measurement unit (IMU) to deliver the first true tilt compensation solution. Now you can measure any point faster and easier without the need to hold the pole vertical.
It is also immune to magnetic disturbances allowing accurate positioning even when surrounded by or in close proximity to metallic objects.
"We developed an affordable precise IMU that calibrates automatically and does not impose additional calibration procedures for the user. It was very important for us that when the user turns on the instrument, he will be ready to measure." Bernhard Richter, Leica Geosystems GNSS Business Director
See how much time is saved using the Leica GS18 T in this video:
Seamless Integration
The Leica GS18 T works directly out of the box without any calibration procedure and integrates seamlessly with your existing Leica hardware and software:
Leica Captivate
The Leica GS18 T RTK rover combines seamlessly with the existing Leica Captivate software for a powerfully immersive experience.  Leica Captivate spans industries and applications with little more than a simple swipe, regardless of whether you work with GNSS, total stations or both.
Leica Infinity
While Captivate captures and models data in the field, Leica Infinity software processes the information back in the office. A smooth data transfer ensures the project stays on track. Captivate and Infinity work in conjunction to join previous survey data and edit projects faster and more efficiently.
Leica Handheld Devices
The Leica CS20 controller and Leica CS35 tablet provide the ultimate in control and convenience with complete mobility. Touchscreen technology allows for comfortable and quick data processing while a stunning 3D view transforms your GNSS experience.
Read more on Leica GS18 T Smart Antenna.
See our GNSS Smart Antenna Comparison Chart.
SHARE THIS ARTICLE