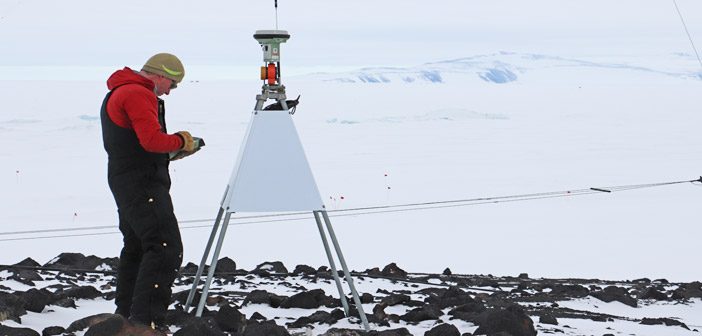 When you're going to work as a surveyor in Antarctica the number one rule is to be prepared. Preparing for conditions that can get down to -49°C and working outside in weather that can change very quickly is no mean feat.
Antarctica New Zealand recently completed a 2 week GPR survey to locate and survey underground services around Scott Base, their task was to provide infill data between boreholes and also determine the location and form of the shoreline which lies under the ice.
Antarctica New Zealand used their existing GPR unit equipped with a Leica GS15 GNSS receiver, enabling a corrected NMEA position stream direct to the GPR controller.

---
"I really appreciated the advice and support from Global Survey prior to departure.  It's important to know all our equipment is well prepared and will work without a hitch" – Lawrence Kees, Technical Specialist – Traverse Operations, Antarctica New Zealand.
---
The Global Survey SmartFix network includes a station at Scott Base however for this project  getting real-time correction data via the internet using sat-phones was not a practical approach.  The Antarctica New Zealand team opted to hire their own GNSS reference station for the job with technical support provided by the Global Survey Geomatics team.
After 2 weeks on the ice, the result was a successful project which captured all the GPR data, accurately positioned using RTK.
---
For expert advice on an upcoming project email info@globalsurvey.co.nz
SHARE THIS ARTICLE