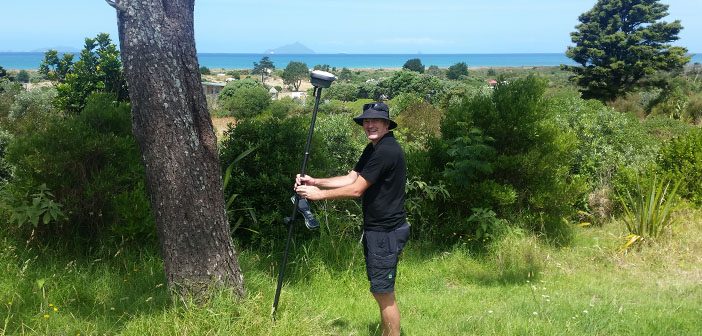 Like many regions, Northland is currently experiencing extensive land development. For Whangarei based company Boundary Hunter, there has never been a better time to invest in the latest GNSS technology. The need to stay ahead of the game and work faster was the driving force behind the decision to purchase the new Leica GS18 T smart antenna.
"I'm always looking at how technology could improve what we do, make it easier, better and faster. In the current climate it's all about time, how soon can you do the job. For me the advancement in the GS18 T from the older GPS units is obvious and worth the investment. I believe it's already proved its worth several times." says Bruce Smith, Director/Owner – Boundary Hunter.
The launch of the GS18 T has caused excitement cross the world and it's no different in the offices of Boundary Hunter where the new technology purchase has everyone wanting their turn. "There's a bit of a race on in the morning as the team want to get their hands on the new Leica GS18 T, and when they get back you can see (and hear) their excitement!" says Bruce.
How Does It Work?
The new Leica GS18 T combines GNSS and inertial measurement unit (IMU) to deliver the first true tilt compensation solution enabling surveyors to measure any point faster and easier without the need to hold the pole vertical and watch or level the bubble. It enables Surveyors to measure corners of buildings and difficult to reach areas and is immune to metallic objects or magnetic surroundings such as cars, pillars and reinforced concrete.
Bruce explains "We recently completed an asbuilt of some manholes in a carpark, and of course some of the manholes were under parked cars. Not a problem for the GS18 T! When staking out all you need to focus on is the direction numbers and you can forget about the pole bubble, again saving time and reducing the human error factor."
The new Leica GS18 T works directly out of the box without any calibration procedure and integrates seamlessly with your existing Leica hardware and software. Capture accurate data in the field faster than ever before with the GS18 T and visualise it in 3D with Leica Captivate software.
Experience the world's fastest GNSS RTK rover for yourself.

SHARE THIS ARTICLE