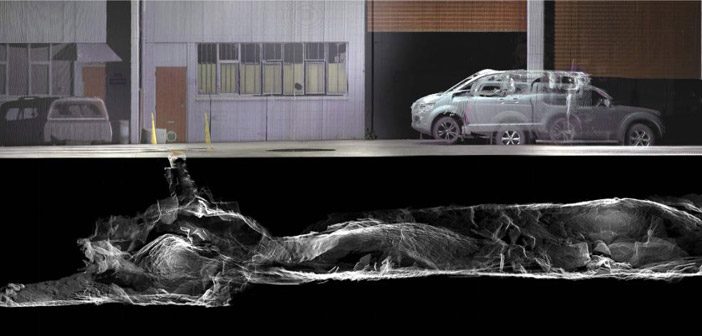 A city located on a volcanic isthmus, Auckland is home to a large number of dormant and extinct volcanoes. Volcanic cones are quite literally everywhere shaping the landscape of this sprawling city and sitting alongside many seemingly peaceful inner city suburbs.
What many of us living in Auckland may not realise is that beneath our feet, under the streets and houses, hides a vast and forgotten network of underground lava caves.
Two years ago recent graduate and digital artist, Chirag Jindal, embarked on a remarkable project to capture and document these underground lava caves using laser scanning technology. The Into The Underworld project resulted in images that are both visually striking, unique and intriguing in equal measure.

We sat down with Chirag to find out more about the project:
Q: How did this project come about?
A: The idea originated while I was completing my Masters of Architecture at the University of Auckland in 2016. I wanted to offer a new perspective on our city, to bring this forgotten and neglected landscape into the public forum, specifically to document their condition and also celebrate their sublimity.
Q: Where are these lava caves?
A: They are all over Auckland! The lava caves have existed for tens of thousands of years, and yet almost half of them have been destroyed over the last two centuries. Those that still exist are found under the existing suburban fabric, accessed through private backyards, roadside manholes and street front garages. They've been removed from the public realm entirely, and have been left to deal with the residues and wastes of the city.
Q: Which lava caves where involved in the project?
A: I collaborated with speleologist Peter Crossley for two years to conduct 3D LiDAR mapping of lava caves under three landmark Auckland volcanoes; Te Tātua-a-Riukiuta (Three Kings), Maungawhau (Mount Eden), Māngere and Maungakiekie (One Tree Hill).
Q: How did you capture these amazing images?
A: We used several scanners, initially we borrowed a classic Leica Scanstation 2 from the University, we moved on to using a Leica Scanstation C10. All of the registration was done in Leica Cyclone, where the top-down registration was key to aligning the organic forms of the scans before we were using targets of any kind.
Some caves would take 2-3 days to complete, other times we'd capture 2 sites within a day. Typically, there'd be about 20-30 scans per project, spaced less than 5 metres apart. The caves would often dip or twist, so it would be rare for us to get a decent line of sight.

Q: What challenges did this project present?
A: The first practical issue was actually navigating the scanner through the caves, some of them had incredibly tight squeezes and narrow passages. Crawling through some tight spots with the valuable scanner made us pretty nervous at some points.
The second challenge was in levelling the scanner, not having a reference plane for up and down makes things difficult in its own right, but in a lot of places there wasn't enough height to even use a tripod. In the end we had to design and build our own levelling base for the scanner.
The final challenge came in aligning the scans, for most architectural and 'surface'-level scans, you've got enough straight walls and perpendicular structures to do a top-down alignment. In a cave, this becomes a whole lot tougher, especially when you discover some of your scans aren't fully levelled. After the first few trials we refined the registration process by placing polystyrene spheres throughout the cave, and you can see these throughout each of the images.
Q: Would you do it differently next time?
A: The whole project would be much easier today using the Leica BLK360. It's much smaller, more lightweight and portable, the short scan times mean we would've captured more angles considerably quicker.  Ironically we finished the project just a few months before the BLK360 scanner was released.
Q: What's you next project?
A: While working on this project for the last few years I've been able to learn a lot around reality capture, LiDAR and surveying, and want to continue pushing the boundaries through an artistic practice, but also in exploring the practical applications within the construction and creative industries. A few weeks ago, we launched a company rooted in 3D scanning and reality capture, it's a start up but we already have a few projects underway – you can check us out at ArcDigital.
Q: Where can we see these images?
A: We're holding our second exhibition at Wynyard Wharf in September. The exhibition is as much an exploration of the landscape as it is of the technology, not just technically but also as a tool for visualising and communicating.
Into The Underworld is an ongoing project, we're always looking to capture interesting caves and hope to take the exhibition across New Zealand.
---
Into The Underworld Exhibition
8 – 30 September 2018, Silo 6, Jellicoe Street, Wynyard Wharf, Auckland
SHARE THIS ARTICLE