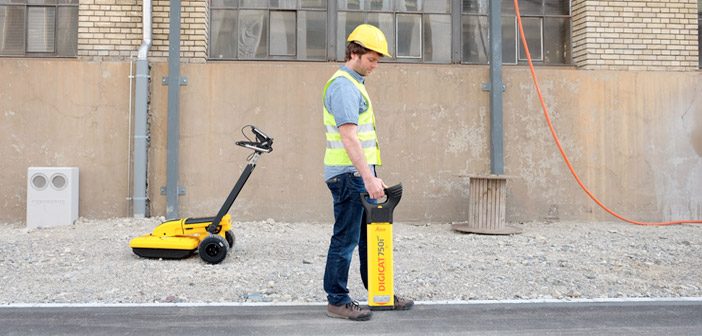 Within the construction industry, there is growing demand for intelligent, easy to use, reliable products that deliver dependable outcomes faster than before.
The main issue when detecting underground utilities is being able to obtain reliable, accurate results in order to ensure site safety once earthworks begin.
Inaccurate or out of date underground utility data can ultimately lead to utility strikes and put lives at risk. Apart from the risk to human safety, the knock on effects of utility strikes can also cause service outages, elevated repair costs and huge delays to construction projects.
It is essential that you know what's going on underground before earthworks begin.

How is using Leica GPR different from a cable locator?
Cable locators are an excellent tool for utility detection, they work by detecting electromagnetic signals around underground services.  By using a signal generator or radio mode, electromagnetic signals can be detected irrespective of whether they are live (have current flowing) or not.  Accurate detection is reliant on the availability of detecting the electromagnetic signal and the utility being conductive i.e. metallic.
The limitation of a cable locator is that it can only detect metallic utilities, or those with a trace wire.  It cannot detect clay or plastic pipe or fibre optic cables laid without a trace wire.  Success is also limited to the depth and diameter of the service being searched for.
Ground Penetrating Radar is used when you need to see a complete picture of what's going on underground – often across a larger area. The Leica DS2000 GPR works by using radar technology to create an underground profile which helps us detect all underground items including cables, non-metallic pipes (such as clay plastic or concrete) and fibre optic cables.
Leica DS2000 GPR features a dual frequency antenna to detect shallow and deep targets at the same time.  The DS2000 can operate with or without the optional RTK GPS (for mapping applications).  All data is stored on the 10" tablet without the need for post-processing.
The advanced ergonomic and rugged design makes it easier to manoeuvre around even the most challenging sites.
With Leica DS2000 GPR you are able to quickly locate a full range of utilities across larger areas for a complete picture of what's underground prior to excavation, avoiding costly damage to services and project delays.
SHARE THIS ARTICLE