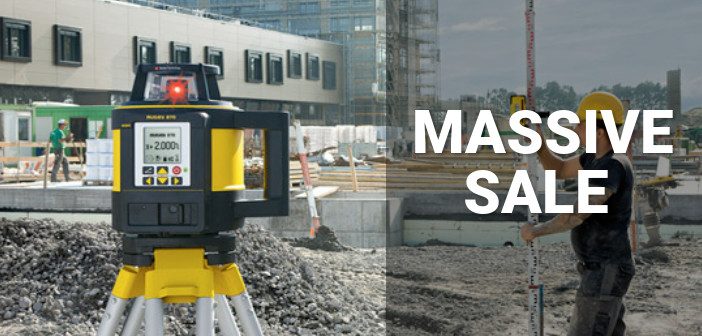 Sorry this promotion has ended. Don't miss out on future promotions, subscribe now to receive industry news and product specials straight to your inbox.
Here it is…the MASSIVE Leica Rugby Laser Sale!
LEICA RUGBY 880 PACKAGE

Fully automatic dual grade laser
Smart targeting
MIL spec IP68 rating

LEICA RUGBY 870 PACKAGE

Fully automatic single grade laser
Smart targeting
5 year warranty

LEICA RUGBY 840 PACKAGE

Horizontal & vertical leveling
Manual grade capability
Optional remote control

LEICA RUGBY 820 PACKAGE

Self leveling horizontal laser
Built tough for work sites
Manual grade up to +/- 10%

LEICA RUGBY 810 PACKAGE

Horizontal only laser level
One button operation
Accuracy +/- 1.5mm over 30m

LEICA RUGBY 680 PACKAGE

Semi-automatic dual grade laser
Grade up to +/- 8%
IP67 water and dust resistant

LEICA RUGBY 670 PACKAGE

Semi-automatic single grade laser
Reliable and accurate
Entry-level grade laser

LEICA RUGBY 410 PACKAGE

Fully automatic dual grade laser
Dual grade +/- 15%
Ideal civil contracting laser

 

LEICA RUGBY 320 PACKAGE

Fully automatic single grade laser
Single grade +/- 25%
Operating diameter 900m
Built to perform in any environment, Leica Rugby Lasers are durable and tough, suitable for all construction applications.
Not sure which Rugby Laser is right for you? We have technical experts on hand to help.
*offers available for a limited time only. Advertised savings relate to specific packages which may be subject to change and dependent on availability.
SHARE THIS ARTICLE