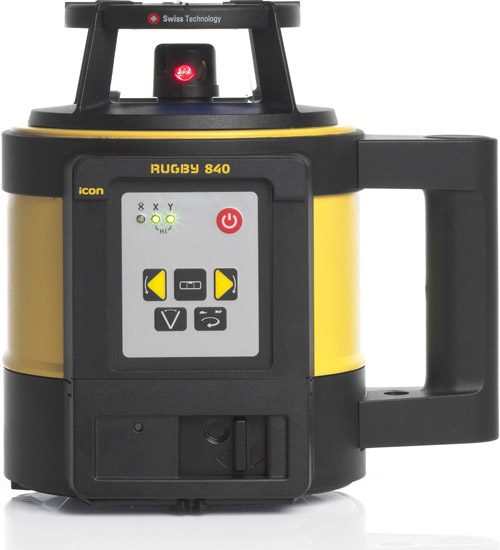 Package Includes:
– Rugby 840
– Case
– RE180 Digital RF Receiver
– A280 Bracket
– RC400 Remote
– A800 Li-ion Battery Pack
– A100 Charger
– GST103 Tripod
– CLR104 Staff
**Savings relate to a specific product package and may vary depending on accessories
Outstanding application performance with Laserman
Perform applications easier and faster than before – no mistakes possible!
Smart Targeting: Automatically align your laser plane at the touch of a button – horizontal, vertical and dual axis
Smart Lock: Monitor and correct the laser plane in real-time avoiding costly mistakes, any movement of the laser plane will be detected.
Unique power supply
Unbeatable versatility – power and charge anywhere, anytime!
Intelligent and rugged Li-ion battery concept
Interchangeable battery packs throughout the new Leica Rugby family (Alkaline and Li-ion)
Run and charge anywhere – in the car, from a 12v battery / generator or out in the sun with the solar panel.
Toughest laser in the market
Site proof design – rugged and robust housing provides reliable application performance even in the harshest jobsite conditions.
IP 68 protected and the only laser in the market with Military Grade Certification, the highest standard in water and dust protection!
Quality you can trust – Lifetime manufactures warranty, 5 years no cost period and 2 year knockdown warranty.
Maximum Temperature Stability – guaranteed highest accuracy across the entire operating range, providing the perfect solution in all conditions.
Intelligent, versatile, clever – it's more than just a laser!
Intelligent laser systems combined with unique accessories provide unbeatable application performance.
Plug and play on site with clever accessories throughout the Leica Rugby family.
Operate and charge your laser at the same time using the solar panel- use the carry case and integrated bag to position the solar panel towards the sun.
Upgrade to dial in semi-automatic using the RC800 Remote