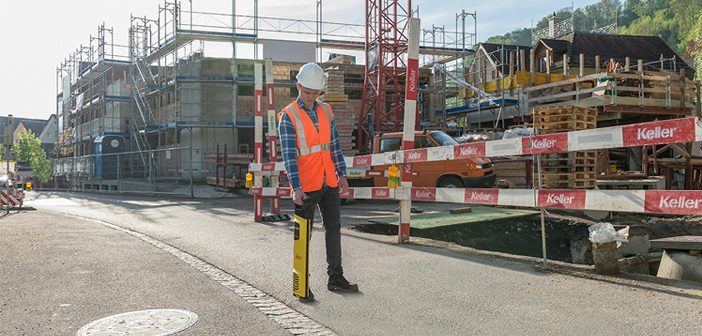 The latest innovation in utility detection has arrived with the launch of the new range of Leica DD Smart cable locators.
In this interview with Global Survey's detection team, we wanted to understand what the new cable locators bring to the table, how they deliver on "safer, faster utility detection" and what new features can be applied in the high risk detection industry.
What's improved with the new DD range?
You can choose between the entry level DD100 series and the advanced DD Smart with superior functionality. The DD100 series spec is higher than the entry level DigiCat i500 used to be, and now includes depth estimation as standard. These are reliable and affordable cable locators for everyday use onsite when you simply need to know the exact location and depth of utilities.
The most significant improvements can be seen with the new DD SMART locators with depth estimation of up to 10m, when used with  a signal generator, and a number of new features. The first thing you notice is the new bright LCD colour screen which displays data but also stores the onboard training videos that act as a knowledge base for new operators and a best practice tool for regular users.
The new feature that impressed us the most was the new 'Pin Point Tech' which helps show the direction of the cable, this speeds up the locating of utilities running overground and helps to quickly identity where they intersect.
How is safety improved? 
Both the DD SMART and DD100 Series have an automatic pinpointing feature which means there is no need for you to manually adjust the sensitivity of your cable locator. This ensures you're using the optimum sensitivity for the environment you are detecting in and safeguards against human error.
What are your top 5 DD SMART new features?

Colour LCD Screen
On board videos support
Pin Point Tech feature
Signal current measurement w/ signal generator
Improved depth estimation w/ signal generator of up to 10m
How easy are they to use?
They really are very simple to use and most new customers are up and running very quickly with them. In the showroom we see customers really enjoying the new design and finding them intuitive to use. We provide training and show customers not just how to use the locator but also how to get the most out of the equipment and work safely and efficiently.
Does DD Smart include GPS?
Yes, the DD SMART range has built in GPS which is used in conjunction with DD Shield software for accurate mapping of utilities.
How much does training cost?
Basic training is free for all customers at time of sale. We are more than happy to speak to customers after the initial training if they need advice or have any questions.
We can provide a greater understating of the methods and best practices for using Leica cable locators. If you have a large team or require more comprehensive training, let us know and we'll put together a quote specific to your requirements.
Does the new range replace the Leica DigiCat cable locators?
Yes the Leica DigiCat cable locators are now discontinued and replaced with the new Leica DD cable locators.
If I have a DigiCat, can I still get it serviced?
Yes absolutely. We continue to offer support and servicing for the DigiCat range at our Service Centres in Auckland and Christchurch.
---
Talk to the team.
The Construction & Detection team are only a phone call away. We deliver industry-leading service, training and unparalleled support for our customers.
Contact us if you have any questions or would like to book a demo, either by email info@globalsurvey.co.nz or call us directly:
---
SHARE THIS ARTICLE