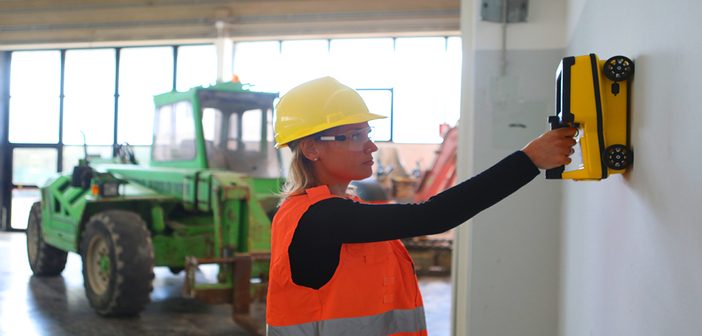 The C-thrue concrete scanner enables you to see through concrete structures and view real-time scan data onsite.
Knowing what lies behind concrete before cutting or drilling improves safety and safeguards against the risk of damage. The C-thrue concrete scanner easily locates rebars, voids, post-tension cables, cavities, conduits and any other objects buried in the structure before cutting or drilling into the concrete.
---
Accurate Concrete Scanning
This revolutionary scanner harnesses the power of the latest Ground Penetrating Radar [GPR] technology to reveal what lies behind concrete.
Featuring 4 antennas scanning in horizontal and vertical polarisations, the C-Thrue concrete scanner is capable of scanning through concrete up to a depth of 80cm. The dual antenna polarisation delivers visualisations that accurately show optimal detection of both first and deeper levels of rebars:
---

A Concrete Scanner Designed For Construction
The C-thrue has been designed specifically for construction sites, it's rugged ergonomic design enables easy operation and provides the user an unobscured, fully visible screen at all times. Featuring a 7″ screen, you can see the location of buried objects immediately on the C-thrue scanner.
At a light-weight 2.4K it can be easily transported around sites, the compact light telescopic pole makes it easy to conduct surveys in difficult locations – under a deck, along vertical walls and in any other hard-to-reach areas.
---

Real-Time Data Analysis
The external controller enables data interpretation in the field, with real-time data processing and representation of results using Augmented Reality.
The large 10.1″ controller screen provides full data analysis onsite so that you can make truly informed decisions.
---
---
---
SHARE THIS ARTICLE