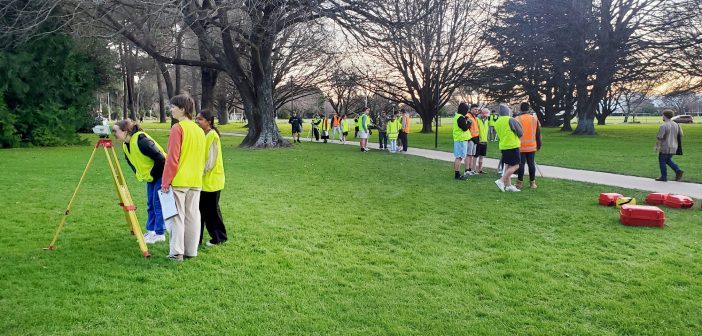 The University of Canterbury Department of Civil and Natural Resources Engineering is known internationally for its successful engineering programmes. In close consultation with industry, the survey teaching module has been redeveloped in 2023 to prepare the new generation of engineering graduates to suit the needs of the modern profession and clients.
Delivered within the second year course, Applied Data Analysis for Civil and Natural Systems, the new format equips students with the knowledge to accurately scope a survey, procure survey services, and validate the deliverables that they receive.
Practical Field Studies
Of course, no survey education would be complete without some practical hands-on experience, so there was plenty of opportunity to use the equipment too. Woven in with the survey sessions, the students attended computer labs where they explored data processing aspects, such as surface modelling and volume computations.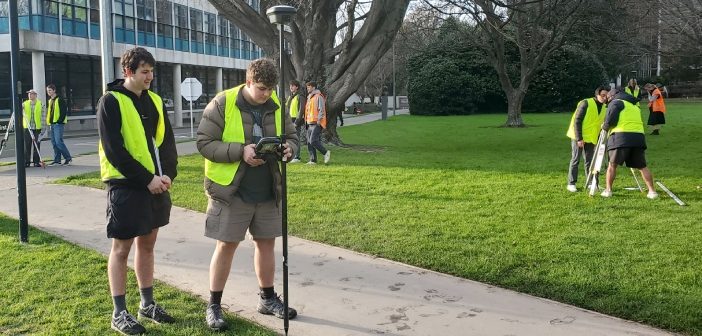 Collaborating with Industry Partners
An additional change to the format is for the survey paper to be delivered by industry partners and Global Survey's Richard Harrison was privileged to have been asked to help deliver the course, alongside Beca's Associate Surveyor, Chris Hyslop and the University's Senior Lecturer Above The Bar, Matthew Hughes.
Beca's own graduate surveyors, Nicola Trott and Albert Webb provided extra assistance in the field sessions, alongside the University of Canterbury's own teaching assistants.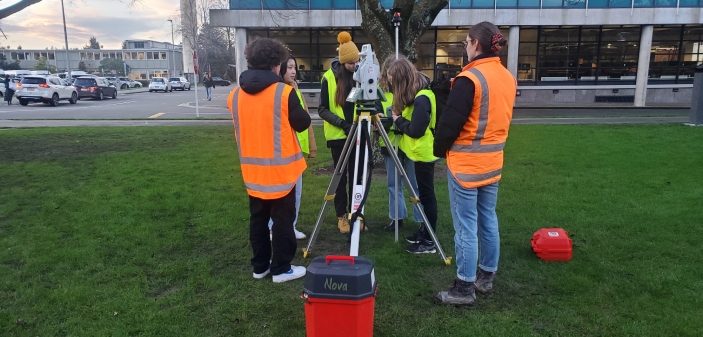 Based around an imagined new cycleway project on campus, lectures and assignments focused on developing an understanding of how to scope the required survey work (so a Surveyor could price and deliver the job), including the completion of a comprehensive scoping document.
Hands-on experience working with Leica GNSS, robotic total stations and levels provided the students with a feel for practical survey work in all weathers and in a range of typical built and landscaped environments.
Finally, the students learned how to verify a professionally produced survey plan for their project area…liberally sprinkled with many deliberate errors that the students were assigned to identify.
For many, this was the students' first exposure to thinking about their built environment in terms of existing drainage, topographic surfaces, built hard and soft features and underground services and how these features need to be measured to inform the design of their new cycleway project.
Reflecting on the 2-week series of lectures and field sessions, Richard Harrison said:
---
| | |
| --- | --- |
| "Spending time with the students as they worked through this program was a rewarding and enjoyable experience, even at 8 a.m. on a cold and wet Monday morning. Training and education are a big part of what we do at Global Survey and I feel proud to have contributed to this important program" | |
---
In summary, Senior Lecturer Matthew Hughes believes "the involvement of industry practitioners to help shape and deliver this course was a new approach for our programme, and the outcome was a fantastic result."
Matthew is looking forward to bringing the team together again for the 2024 second year students.
---
---
SHARE THIS ARTICLE