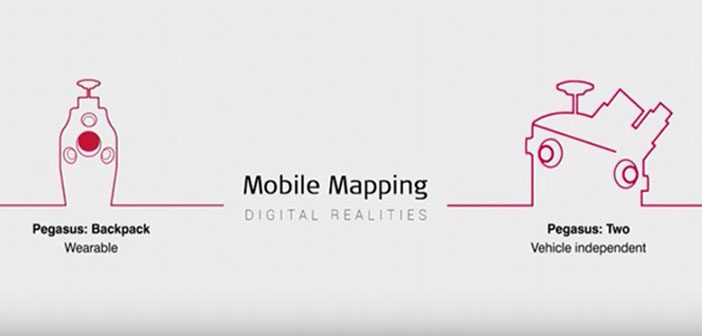 Leica Geosystems offers a complete portfolio of mobile mapping solutions capturing point cloud & imaging data. Now there are two highly accurate mobile scanning solutions to choose from: Leica Pegasus:Backpack is the award-winning wearable capture solution. Leica Pegasus:Two is a vehicle-independent mobile mapping platform.
Watch the video to see them in action!
The Leica Pegasus:Backpack enables you to be truly mobile and access challenging and difficult to reach environments or terrains. This wearable reality capture technology and features the proven ergonomics of a trekking backpack providing comfort over long periods of use.
The unibody carbon fibre frame hosts all components with a slim exterior, offering maximum stability and keeping the weight low at 12 kg. With the real-time view of the captured data on the tablet , you can make informed decisions in the field.
The Leica Pegasus:Two enables you to map greater distances quicker than ever before and features survey grade accuracy. As the vehicle and application independent solution, the Pegasus:Two serves road, rail and water based surveying. The built-in innovative pavement camera includes a pavement crack index and IRI index. Detect buried assets and uncover potential dangers before digging to avoid with the ground penetrating radar. Locate energy loss and overheating electricity network to prevent costly maintenance with the thermal sensor.
Contact our expert team on 0800 453 422 to find out more.
SHARE THIS ARTICLE