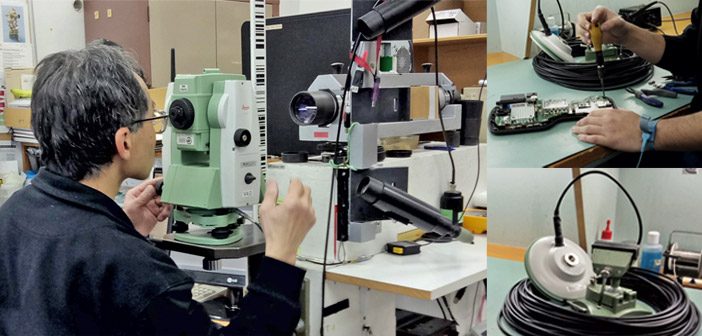 Survey and construction equipment is built rugged by design. It has to be tough to withstand the dust, water, and other rigours of use in outdoor construction environments. With that in mind, servicing equipment regularly still plays a large part in ensuring the longevity of it's working life.
To keep your equipment operating accurately and smoothly, it's important to schedule regular servicing and calibration. Additionally, if the equipment is dropped or damaged in any way it's as important to have it checked and repaired quickly, even if the damage appears minor at first. Always ensure that your gear is totally dry before packing it away and check that there is no moisture on the carry case inserts.
Prioritise Smaller Equipment Repairs
Most people don't realise that ignoring small equipment repairs can cause major headaches down the track. When you're busy it's easy to let small repairs slip down the priority list. But be warned, we often see cases of neglected small repair jobs developing into much bigger issues.
"We advise all our customers to send their equipment for regular, annual services enabling our technicians to confirm that the device is operating to the manufacturers' specification. Dealing with small issues early on could prevent dealing with major issues later." – Colin Finnie, National Service Manager
A good example of this would be an instrument developing a small crack in its housing. It still works, so the owner goes about their work as normal. However, the weather tightness of the instrument is now compromised, and should any moisture find its way inside, the result could be expensive damage to internal mechanisms and circuit boards.
What starts as nothing more than small crack can easily escalate into a major rebuild, resulting in not only downtime, but a potentially significant bill for replacement parts and labour. All of which could have been avoided if the initial damage had been remedied promptly after occurring.
Small repairs can often be completed with minimal downtime by our experienced service technicians.
Global Survey Service Centre
With service facilities in both Auckland and Christchurch we offer the largest and most sophisticated survey and construction equipment service capabilities in New Zealand.
Our service centres are Leica accredited and audited to ensure we service, calibrate and repair instruments to the same standard as the Leica factory in Switzerland.
Email service@globalsurvey.co.nz to book your equipment in for a repair, service or calibration.
SHARE THIS ARTICLE