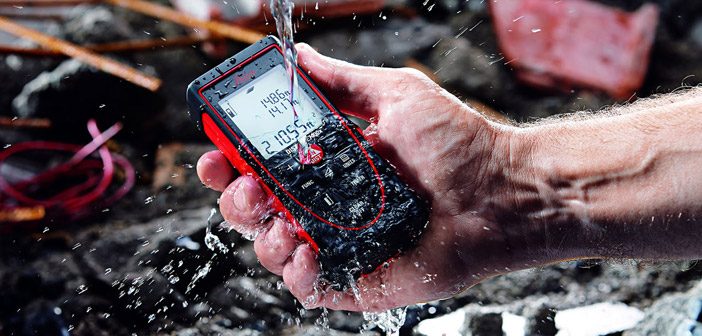 All construction and survey equipment is awarded an IP Rating [Ingress Protection Rating] which essentially rates how waterproof and dust proof the housing is.
It's considered to be a rating of ruggedness and if the equipment will stand up to the conditions of operating outside in all weather conditions and all environments.
This chart explains IP Rating:
First Number = Dust Protection 
Second Number = Water Protection 
0: No Protection
1: Protection against solids up to 50mm
2: Protection against solids up to 12mm
3: Protection against solids up to 2.5mm
4: Protection against solids up to 1mm
5: Protection against dust, limited ingress
6: Totally protected against dust
0: No protection
1: Protected against dripping water
2: Protected against dripping water (tilted)
3: Protected against water spray
4: Protected against splashing water
5: Protected against water jets
6: Protected against a nozzle under pressure
7: Protected against immersion (1m for 30min)
8: Protected against submersion (at depth, under pressure)
The higher the IP Rating the more secure the housing is, IP68 is the highest rating available and means that equipment is completely dust and water proof.
Leica Geosystems equipment undergoes rigorous testing and is usually rated at the highest levels. You'll find product specific IP Ratings for all our equipment in the specifications section of each product page on this website.
To get the longest life out of your equipment, you should always look for the highest IP Rating available.
Call our expert team on 0800 453 422 for the latest Leica Geosystems rugged products.
SHARE THIS ARTICLE