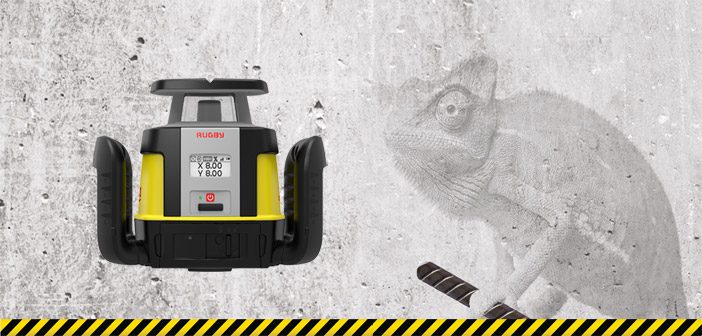 Leica Geosystems has developed the world's first and only upgradable lasers. The new Leica Rugby Lasers are revolutionising the industry by offering unprecedented flexibility and the ability to adjust to your project's needs.
Designed to adapt.
With the Leica Rugby CLA and CLH you can upgrade your lasers to match your application needs. You pay for the functionality you need to do your job without paying for the extra features that you don't use. Our Leica accredited service centres are able to upgrade your laser from horizontal only to single slope to dual slope [and more] as your needs change.
Built to last.
Continuing the Rugby laser tradition of ultimate durability, the new Leica Rugby Laser's robust and rugged design ensures measurement stability and accuracy for your daily tasks. Integrated shock absorbers help minimise impact damage and the handle is fixed to the base with special highly rigid sockets that provide a strong mount to the base. The new Rugby lasers comes with 5 year warranty and 2 year knockdown warranty for ultimate peace of mind.
Intelligent simplicity.
The first upgradable lasers have been designed with simplicity in mind. It couldn't be easier, you choose the functionality you need to get the job done. Operation is made even easier with one combined receiver and remote control, one intuitive interface, one rechargeable Li-Ion battery solution and interchangeable accessories across the range.
---

Choose from 2 base units, Leica Rugby CLA or CLH with multiple upgrade options:
Leica Rugby CLA
The Right Choice For Every Application On Site
With the unique capability to adapt to any application needs through upgrades, the Leica Rugby CLA is the first upgradable laser that can maximise productivity and performance on-site. The upgrade options deliver unmatched performance in any levelling and squaring tasks, making it a true all-rounder. See Upgrade Options
Leica Rugby CLH
Simplicity At Its Best
Leica Rugby CLH series saves you time by simplifying processes and making you more productive. Purchase the CLH base model and then unlock it's full potential as your needs change. The upgrade options allow for maximised performance in all levelling applications. See Upgrade Options
---
Not sure which model is right for you?
Visit one of our showrooms or call our expert team on 0800 453 422
SHARE THIS ARTICLE