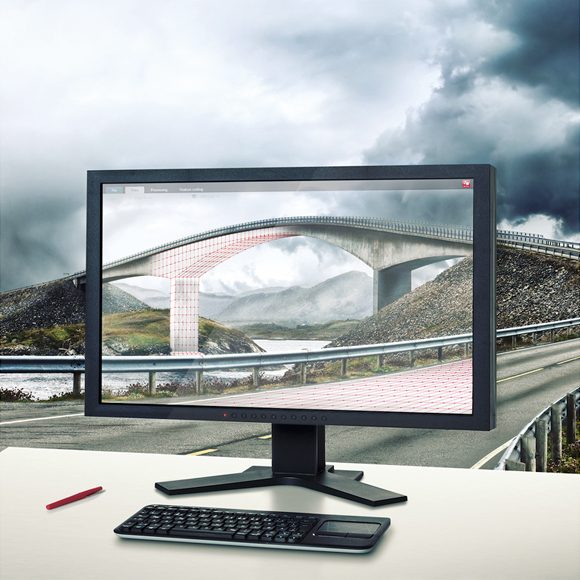 Leica Infinity software, the bridge between field and office
Leica Infinity software is the user-friendly geospatial office software for the measurement professional. Whether it's measuring new survey projects or preparing data for construction layout jobs, Infinity supports your workflow.
New perspectives for your project
Discover a new dimension in survey office software. Leica Infinity not only allows you to process complex structures with absolute precision, it is above all your key to simple access to the worlds of 3D data processing. The clearly laid-out user interface and intuitive handling of its 3D map view means that three-dimensional data sets recorded in the field – and even multiple scans – can now be displayed on your desktop, edited more rapidly than ever before and integrated with other survey results – for faster decisions in projects.
Nothing beats another check
Hassle-free and rapid completion always saves time and money, particularly in complex projects. This is why Leica Infinity is designed to provide you with instant access to all aggregated raw data at all times and lets you combine and cross-check them against processed or archived data and survey results with only a couple of clicks. Your survey crews in the field are kept on the ball by data transfer when it comes to expanding or reducing the survey schedule, response times and decisions are made faster and bring new levels of project-efficiency.

Report and archive your results
No matter how complex your survey is, it is important to be aware for the state of the project. Access raw data structures and easily identify what has been processed and where there is still work to be done. Leica Infinity offers you all the tools to document and report on individual steps and final results, no matter for how long your project lasts. All your data, processed results and deliverables are contained in your project and are accessible whenever you need. For more transparency of the decisions you have taken.
Experience the world in a new way
Leica Infinity allows quick decision making for the first time.
The modern user interface, seamless data transfer to the PC and 3D viewing from multiple perspectives makes Leica Infinity the perfect partner for your high-performance instruments.
3D map view in the central working area.
Modern user interface with consistent look & feel and workflows throughout all modules
You may also like…