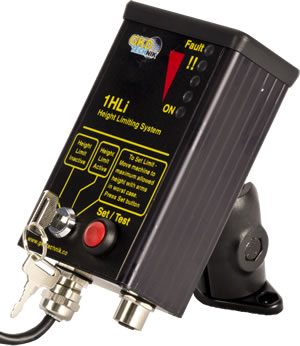 GDK Technic manufacture safety technology for construction machinery and people working around plant.  GDK height and slew limiting systems are simple to use, excellent value for money and allow for full hydraulic cutout as an option. GDK height and slew limiting systems should be used if you are working under powerlines with an excavator, working in confined spacing and need to limit slew on your machine or want to reliably notify machine operators when your personal are working close to machinery (without relying on the operator watching a video screen).  Talk to your Global Survey Machine Control specialist today about how solutions from GDK can help solve your safety problems.
Simple, accurate, cost effective height limiting system, suitable for self-installation. The 1HLI height limiter is designed to protect workers from overhead danger when operating in restricted conditions, it is often difficult for the operator to judge the actual height of the machine or the position of the booms from the cab. This can result in collision with roofs, walls, bridges and gantries or overhead wires, in many cases causing expensive damage to the machine, third party claims for structures or in the worst-case fatalities from electrocution.
APPLICATION: For use in the construction and utility maintenance industries for use on machines such as excavators, wheel and backhoe loaders, telehandlers and other articulated machines operating in restricted conditions.
HOW IT WORKS: The machine operator is able to define a pre-set limit of the machines boom on the 1HLI operator station, preventing movement of the boom outside of the pre-set limit. This entry level height limiting system monitors the angle of a single boom and provides a motion cut signal output when the angle is exceeded.
As the left or right slew limit is reached a hydraulic solenoid valve is released to cut off the relevant slew hydraulic service, and therefore prevent the machine from entering the exclusion zone. Slew operation in the opposite direction, back into the "safe" zone, is still permitted.

The system can be installed by any competent engineer, and there is no calibration required.