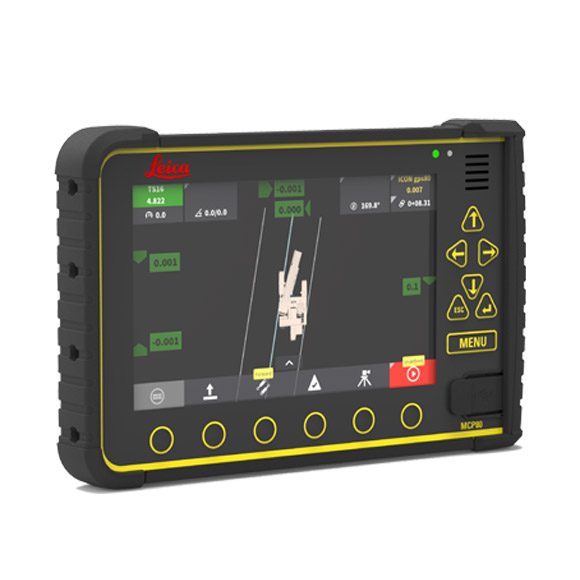 Leica iCON pave for concrete paving supports all applications, such as slipform paving, curb and gutter, trimmer, and placer spreader. Designed in cooperation with the main OEMs, Leica Geosystems ensures that the 3D paving solution meets your requirements.
Leica iCON pave supports your business with 3D paving solutions from airport paving to tunnel work, curb and gutter jobs or new highway projects.
With decades of experience in 3D paving solutions, Leica Geosystems has proven expertise in hundreds of installed and active systems throughout the world and numerous approved interfaces with all main OEMs. Get your paving jobs done faster, more efficiently and right the first time with the concrete paving solution of Leica iCON machine control solution.
Leica iCON Machine Control Solutions
Simplified data transfer within the same platform as all other iCON machine control solutions
Intelligent hardware combination of panel and in-cabin mounted cradle storing machine specific data
Simple and intuitive user interface
Cost and time savings with easy installation and quick setup
Smooth workflows due to complete Leica iCON product portfolio for any construction site application
Key Benefits of Leica iCON Pave Curb & Gutter
Four machine profiles for concrete paving available
Consistent and highly accurate pave quality as the third generation of iCON stringless paving solutions
Easy adaption to any job site conditions with several sensor combinations
Continuous paving operation with auto leapfrogging of TPS
Reduced cabling and costs with the new multipoint radio
Supported by Leica ConX for track, view and synchronisation
Preparation
Upload stringline road models via Leica ConX
Select a reference and slope lines on display
Customize run screen
Activate Multipoint Radio
Set up total stations (Auto Leapfrog)
Work Processes
Monitor material flow while in auto run mode
Use quick access keys to off set/tune set safety features for job adaptions
Quality Control
Log as-builts
Monitor progress in leica ConX
Leica MCP80 Control Panel
The MCP80 panel is a new cutting-edge technology platform, future-proofed to protect your investment. Equip machines with the new docking station and transfer the cable-free MCP80 panel between machines as the job requires, regardless of type, make or model.
Built with tough environmental specifications, the Leica Geosystems docking station and MCP80 panel are designed to operate in extreme temperatures (-40 °C to +65 °C) and are water, vibration and shock proof.
Connectivity is assured with the integrated cellular modem enabling you to stay connected to your jobsite from anywhere in the world. With the fastest and most reliable 4G / 4GX modem you can sync data between field and office effortlessly and access remote support when needed.
Designed to deliver maximum productivity, Leica iCON machine control integrates one common software platform with one hardware that is interchangeable across your fleet.