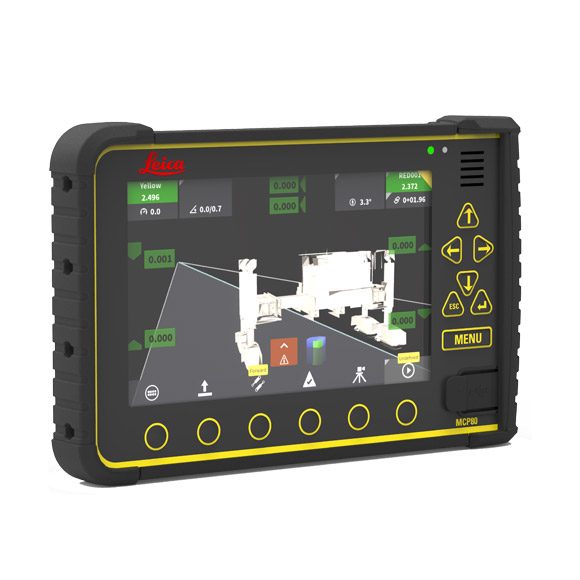 Experience the unique benefits of Leica iCON machine control solutions for asphalt paving.
Leica iCON Pave Asphalt is designed to deliver more efficient, faster paving with a high level of accuracy. Save time and costs by avoiding the dependency of string lines.
Leica iCON Pave Asphalt makes paving work easier for asphalt operator and contractors and delivers a high quality of surface finish consistently and faster than traditional methods.
Key Features of Leica iCON Pave Asphalt
Stringless paving to reduce costs and shorten project time
Many sensor combinations possible to suit every paving task
Track, view and sync via Leica ConX
Automatic leapfrog for continuous paving to increase quality
Support all main asphalt paver brands
High end version includes width and steering control
Key Benefits of Leica iCON Pave Asphalt
Asphalt paver ready to pave after reference upload
String line inaccuracy eliminated with consistent paving quality 24/7
Lower road maintenance costs due to accurate paved surface
Improved safety for workers on site due to removal of string lines
Leica MCP80 Control Panel
The MCP80 panel is a new cutting-edge technology platform, future-proofed to protect your investment. Equip machines with the new docking station and transfer the cable-free MCP80 panel between machines as the job requires, regardless of type, make or model.
Built with tough environmental specifications, the Leica Geosystems docking station and MCP80 panel are designed to operate in extreme temperatures (-40 °C to +65 °C) and are water, vibration and shock proof.
Connectivity is assured with the integrated cellular modem enabling you to stay connected to your jobsite from anywhere in the world. With the fastest and most reliable 4G / 4GX modem you can sync data between field and office effortlessly and access remote support when needed.
Designed to deliver maximum productivity, Leica iCON machine control integrates one common software platform with one hardware that is interchangeable across your fleet.