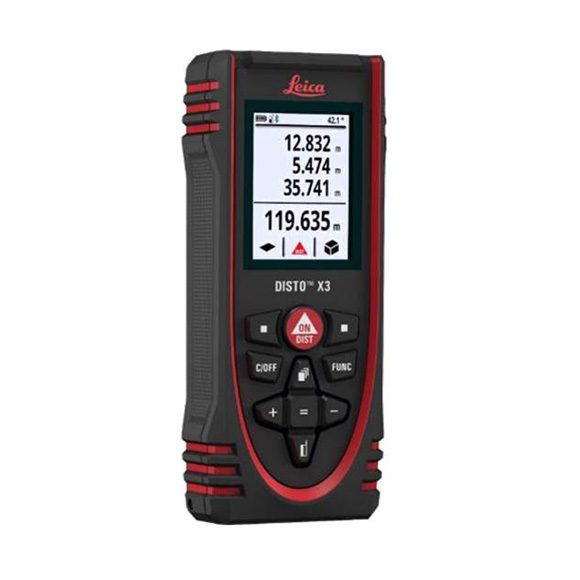 Leica DISTO X3 – Guaranteed tough for the more rugged side of life!
The Leica DISTO X3 is designed to make indoor laser measurements an easy task. A holster, hand loop and batteries are included. The Leica DISTO X3 is perfect for tough construction site conditions. It is drop-tested up to 2 m in height, water jet and dust protected to IP 65 standards.
Smart Room – New Leica DISTO technologies in combination with the Smart Room function of the Leica DISTOTM Plan app allow you to quickly create scaled floor plans on your smartphone or tablet.
Point to point measurement – The Leica DST 360 transforms your hand-held laser device into a measurement station. It allows you to measure distances between any two points from one position.
Intuitive – Easy to use buttons and functions make working with the DISTO X3 fast and intuitive.
Typ. distance measuring accuracy (ISO 16331-1 certified)
± 1.0 mm
Range (ISO 16331-1 certified)
0.05 up to 150 m
Measuring units
m, ft, in
X-Range Power Technology
 Yes
Tilt sensor
 Yes
Tilt sensor accuracy to the housing
± 0.2°
Smart Base measuring range
Horizontal
Vertical
360° for use with Leica DST 360
-64° to > 90° for use with Leica DST 360
Typ. tolerance of P2P function for use with Leica DST 360
± 2mm at 2m, 5mm at 5m, 10mm at 10m
Levelling range
5° for use with Leica DST 360
Pointfinder with zoom
4x
Memory of last measurement
20
Free software for Windows
Yes
Free App for iOS and Android
Yes
Smart Room function support
Yes
General data interface
Bluetooth® Smart
Data interface for 3D point data
Bluetooth® Smart
Measurements per set of batteries
up to 4'000
(reduced when used with Bluetooth®)
Service life of batteries
up to 8h
(reduced when used with Bluetooth®)
Multifunctional endpiece with automatic reference detection
Yes
Batteries
2x AA Alkaline
Protection class
IP 65
2m drop tested
Yes
Dimensions
132 x 56 x 29 mm
Weight with batteries
 188g
Art. No.
855107
EAN / UPC
7640110697047