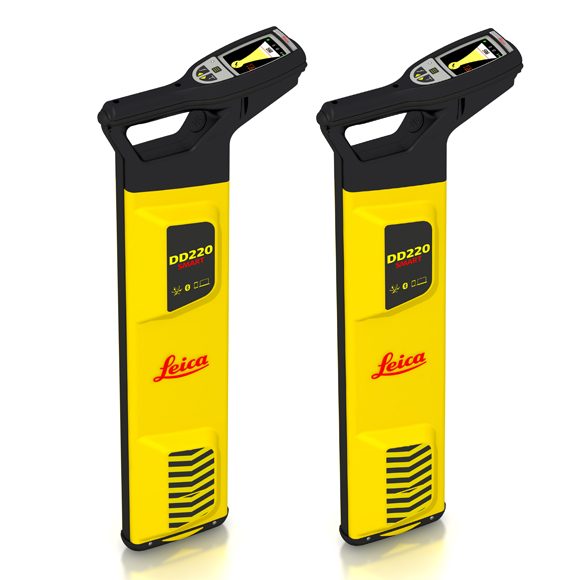 The Leica DD SMART cable locator series uses industry-leading digital signal processing to identify underground assets deeper, faster and more accurately than any other system.
The new SMART utility locator solution allows users to detect buried utilities, transfer and access data remotely to a hosted service for multiple users, across multiple sites to manage site activities. SMART technology records information to manage site activities and map buried utilities, protecting your assets, personnel and assets.
The Leica DD SMART cable locator solution, including the DD230/220 cable locator series, DX Shield software and signal transmitters is the only complete portfolio of detection solutions for utility professionals and anyone who is breaking ground.
The DD230/220 SMART locators are designed with the latest Bluetooth technology, providing a wire-free connection to field controllers and mobile devices.
Connect and download data stored in the DD SMART utility locators' internal memory, including GPS positioning, and transfer back to the office.
The Leica utility detection solution includes the Leica DD SMART cable locators, signal transmitters, and Leica DX Shield software, allows you to automatically detect utilities, minimise damage and protect personnel, infrastructure and assets.
| | | |
| --- | --- | --- |
| MODE | DD220 SMART | DD230 SMART |
| Power | 50 Hz | 50 Hz |
| | mains electrical and harmonics | mains electrical and harmonics |
| Radio | 15kHz to 60kHz | 15kHz to 60kHz |
| Auto | Power, Radio, 33kHz | Power, Radio, 33kHz |
| Transmitter Modes | 131.072 (131) kHz | 131.072 (131) kHz |
| | 32.768 (33) kHz | 32.768 (33) kHz |
| | 8.192 (8) kHz | 8.192 (8) kHz |
| | | 512 Hz |
| | | 640 Hz |
| Depth Range | Line 0.1m to 5m | Line 0.1m to 7m |
| | Sonde 0.1m to 7m | Sonde 0.1 to 10m |
| Depth Accuracy* | 5% | 5% |
| Bluetooth | Class 2 BLE dual mode module | Class 2 BLE dual mode module |
| | Bluetooth Classic 2.1 | Bluetooth Classic 2.1 |
| | Bluetooth 4.0 (LE) | Bluetooth 4.0 (LE) |
| GPS** | Chipset (1): u-blox®GPS | Chipset (1): u-blox®GPS |
| | Reciever Type: GPS L1C/A, SBAS L1C/A, | Reciever Type: GPS L1C/A, SBAS L1C/A, |
| | QZSS L1C/A, GLONASS L1OF, BeiDou B1 | QZSS L1C/A, GLONASS L1OF, BeiDou B1 |
| | Accuracy (2): Horizontal Position 2.5 m | Accuracy (2): Horizontal Position 2.5 m |
| | Autonomous, 2.0 m SBAS,CEP | Autonomous, 2.0 m SBAS,CEP |
| | Start time: Cold 45 s typical, Aided 7 s | Start time: Cold 45 s typical, Aided 7 s |
| | typical, Hot 1 s typical | typical, Hot 1 s typical |
| Memory Capacity | 8 GB internal memory | 8 GB internal memory |
| Environmental Standard | IP66 | IP66 |
| Operating Temperature | -20 °C to +50 °C | -20 °C to +50 °C |
| Battery | 7.4V Rechargeable Li – Ion | 7.4V Rechargeable Li – Ion |
| Battery operating time *** | 15 h | 15 h |
| Dimensions (HxWxD) | 765×290 x93mm | 765×290 x93mm |
| Weight with batteries | 2.7Kg | 2.7Kg |