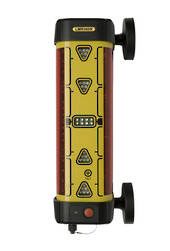 The LMR360R offers accurate grade information for all visual machine control applications. Large 360 degree detection windows pick up any rotating laser, from any angle.
Built-in vertical indicator monitors angle of the stick, signaling if its plumb or under-or overextended. Vertical position ensures consistent and accurate grade readings, saving money by reducing over-or under-cutting.
Large magnets allow quick mount and easy movement from machine to machine. Optional mounting kit and optional LMD360R remote display is also available.
Features
LED indicators show position of cutting edge in relation to the laser reference beam. Seven display channels (indicators) in coarse mode; nine channels in fine mode Memory stores the last signal received. Arrows indicate which way to move the cutting edge to reach the reference plane. Receiver has a plumb LED indicator
Rugged, waterproof construction. Built-in shock mounts minimize machine vibrations.
LMR360R Specifications
200m Operating radius
360 degree reception
25cm Capture window
6mm fine and 12mm coarse accuracy
IP67 waterproof
Rechargeable NiMh battery
30 hours battery life
12 hours charging time
Weight 1.8kg without clamps
Leica PROTECT Warranty
Lifetime Manufacturer's Warranty
---
Leica LMR360 Machine Mounted Receiver