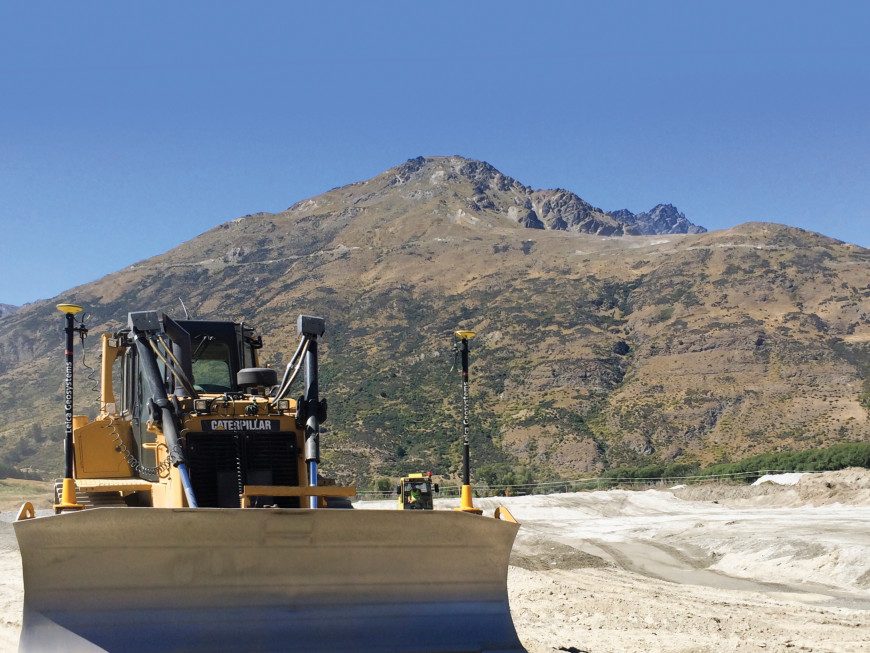 In New Zealand there is an increasing trend in contractors of all sizes investing in Leica iCON 3d Machine Control to help improve efficiencies on site. Long gone are the days of working around survey stakes, knocking them over and waiting days for a surveyor to come to site. Leica iCON 3d Machine Control allows contractors to provide their operators with a full 3d design and the ability to accurately cut to grade first time without having to get out of there cab.
Ray Copeland, Managing Director at Global Survey, believes New Zealand companies have the potential to save up to 20 percent on bottom line costs across a project when machine control systems are utilised.
Leica iCON 3d Machine Control allows contractors can enhance performance and increase profitability by cutting to grade first time every time. It is all about working smarter not harder. By perfecting workflows the follow on benefits across your company will be huge.
Noticeable benefits include:
Reduced survey costs – with 3d machine control you can eliminate the need for any survey pegs on site
Improved productivity – cut to grade first time without the need for costly rework
Increased efficiencies on site – less staff are required resulting in up to 30% cost savings
Increase site safety – Grader checkers are no longer required to follow machinery around checking heights, this can all be controlled by the operator in the cab
Less down time – Control your site remotely with the use of Telematics allowing you to view, send and receive data and track your machine on site and remotely upload and download data from your machines
iCON GPS Rovers and Total Stations can be used independently or alongside iCON 3d Machine Control Products. They give the engineers, supervisors and foremen further abilities to manage the quality of projects by being able to monitor quantities onsite.
These tasks include:
Undertake simple set out of points and lines
Measure as built points
Undertake quality assurance checks
Monitor cuts and fills across earthwork sites
Calculate volumes of stockpiles, material to be excavated or fill material needed all on their iCON GPS rover, and then email these requirements as PDF reports directly back to their office.
Global Survey, the exclusive New Zealand distributor of Leica machine control systems, offer flexible and competitive hire and purchase rates for all Leica iCON 3d machine control systems which can be installed on products from box blades, drag scoops, scrapers, dozers, excavators graders– and everything in between. Competitive hire and purchase rates are also available for the iCON GPS Rovers and Robotic Total Stations.
Global Survey provides contractors with the means to take the guess work out of projects with a team of six dedicated machine control staff spread across New Zealand. The team has the skills and expertise to train, support and provide advice on how to get the most out of your investments.
Stay ahead of the game and ensure your company is working smarter not harder with the integration of technology and machine control systems.
For further information, phone
0800 453 422, or email