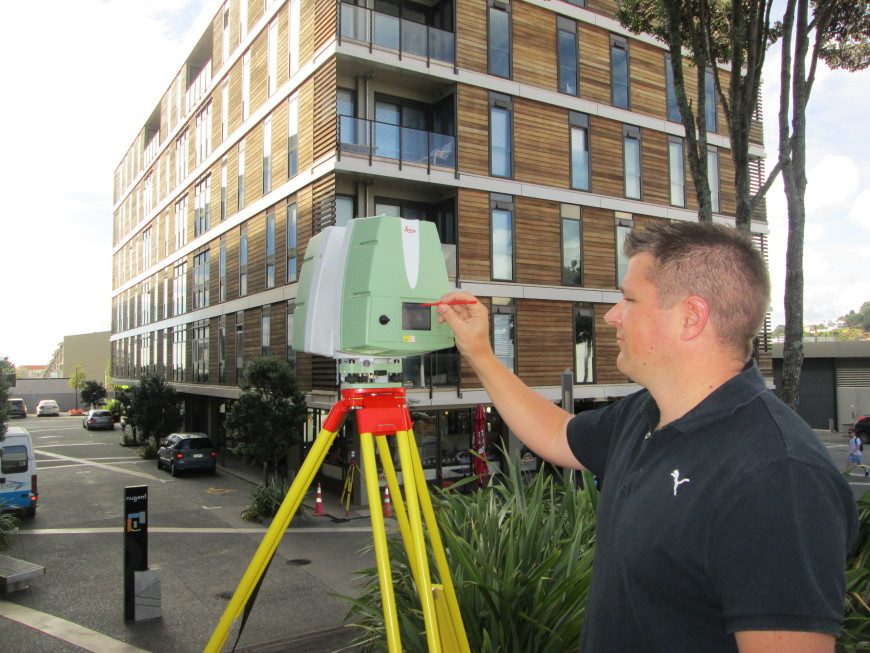 The Bridge of Remembrance over the Avon River in Christchurch was severely structurally damaged in the earthquake. Downers, the contractors engaged to facilitate the repairs to the bridge, appointed engineers, surveyors, and planners Woods to assist with the work.
Woods' brief was to survey the bridge and capture its dimensions, including those of the arches and each of the four voids in the four arch columns accurately. Accurate information was crucial to empower Southern Cross Engineering to do the structural design required for the repairs.
Woods found the only method suitable for such an application to be 3D laser scanning. "While 3D laser scanning is new to many people, Woods laser scanning has been using this great technology for seven years. 3D laser scanning is a fast, safe, and accurate method to capture complex shapes and saturates any surface with points to ensure all features can be delineated," says Woods survey manager Rowan Hallam. "The Triumphal Arch on the Bridge of Remembrance had challenges that conventional survey techniques would struggle to overcome. Each of the four arch columns contained voids along with voids in the horizontal areas above the arches – a big ask for conventional surveying."
Using its Leica Scanstation P20, purchased from Global Survey, the team captured the external facades from ten scanner locations around the arch. The internal voids were captured from fourteen scanner locations. Ten of these stations were with inverted scanner positions along the top of the arch. Access was obtained into the bottom of the inner voids so the remaining four scans could be completed.
Back in the office the surveyors registered these twenty four scans together to millimetre precision to produce an accurate point cloud representation of the complex shapes of the arch, its inner voids, and surrounding bridge. "With so many softwares now accepting point cloud we were pleased to see the end user receiving the point cloud data as it allows them to integrate specific elements themselves. Our laser scanning team also then modelled the bridge in Revit software and delivered a CAD model to the client," Mr Hallam says.
He says with the standard advancement of computing power and software capabilities, laser scanning and point clouds no longer cause the headaches of a few years ago. "We have seen a big uptake of laser scanning in civil infrastructure projects and the workflows of the BIM process," he says.
Repair work on the bridge is progressing well. The arch is in the process of being reinforced with steel joins, allowing it movement in possible future earthquakes. It is on track to reopen later this year.