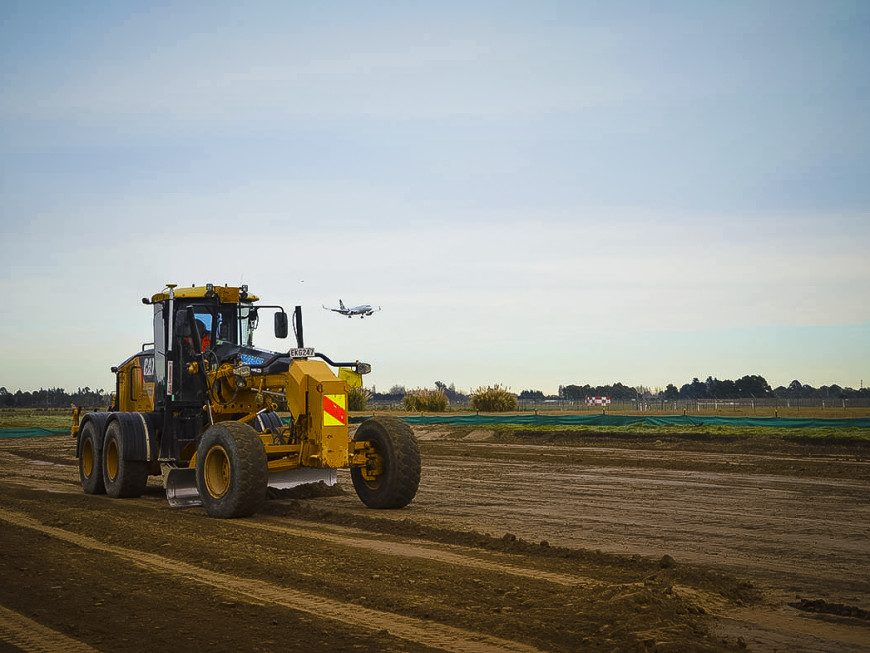 Taggart Earthmoving are already seeing the Contractor friendly and easy to use benefits of their Leica iCON GPS and 3D Grader System.
Taggart Earthmoving is a large well established contracting company based in Christchurch and for the last 62 years the Taggart family have continued to grow their business into an efficient contracting company with over 100 staff.
Having utilised Leica Laser Levels and a Leica 1200 Total Station in the past, Paul Taggart, Managing Director of Taggart Earthmoving wanted to explore his options to move into GPS technology. Paul believes that investing in GPS technology was the crucial next step in providing his company with the ability to save both time and money for his client's civil earthworks and infrastructure projects.
"After recently visiting the Con Expo in Los Vegas I narrowed it down to Leica and Topcon. After the field trials the main reason Leica won out was that the Leica technology was considerably more user friendly and a lot more adaptable for our staff in the field. We chose Global Survey as they exceeded the competition in sales service and offered us better back up in terms of offering advice as we developed our knowledge base with the technology," stated Paul.
Simon Currie, Senior Project Supervisor at Taggart pointed out the main difference with Leica iCON GPS is that it is intuitive to use and can be learned quickly and competently, "This allows us to manage our jobsites more independently and efficiently. So we reduce downtime, increase productivity, and reduce outgoing costs".
Taggart is managing Awatea Parks Subdivision more efficiently, saving costs and reducing valuable downtime.
One of the first jobs the Taggart crew engaged the Leica 3D Grader System and iCON GPS on was the major Awatea Parks Subdivision in Canterbury for Fletcher Residential Ltd. The iCON GPS provides their Foreman simple, intuitive software to conduct simple survey stakeout tasks, as-built checks, cut & fill measurements and quantity checks themselves, without hiring a Surveyor.
The Foreman can easily produce stock pile and volume calculation reports which are clear, concise and professional. These reports can then be emailed back to the office and used as supporting evidence for payment claims.
Simon also mentioned "The main difference and benefit to us was the ease and speed of going through the files to get to the stakeout and volume reports quickly. Leica Systems are very contractor friendly for the guys in the field. The system allows them to easily access and send accurate reports to their Project Managers".
Smartfix network system gives Taggart a high level of flexibility
As Taggart have multiple projects spread around the Christchurch district, they have chosen to utilitse the Smartfix Network instead of traditional base stations. This allows them to easily move both there grader and iCON GPS between sites without having to setup a base station at each site every time they move equipment.
Looking to the future Taggart are increasing its fleet
Paul intends to build on that innovation in the near future with setting up a scraper. As other large earthwork projects come on board they will look at increasing their machine control system fleets.
"When we look back, it's something we should have done sooner rather than later," quoted Paul.
Thanks to Leica Machine Control and iCON GPS site solutions, Taggart are now able to give stakeholders the assuredness that they have the leading methodologies to complete accurate earthwork operations in a timely manner. This will be a huge benefit during the tendering process as clients are demanding this technology.
Increasingly, companies like Taggart are adopting GPS machine control systems for their ability to innovate and stay ahead of the game.
Ray Copeland, Managing Director at Global Survey, believes companies like Taggart have the potential to save up to 20 percent on bottom line costs across a project when machine control systems are utilised.
Ray stated "The advantages of investing in iCON site solutions and machine control systems translate into tangible savings and a quick return on investment for companies like Taggart investing in Leica technology".